In this issue: Bach's "Flößt, mein Heiland" from Christmas Oratorio, BWV 248; Corelli's Concerto grosso in G minor, Op. 6, No. 8, Christmas Concerto performed by Freiburger Barokorchester; John Adams' "The Christmas Star" from El Niño, directed by Peter Sellars; "Silent Night" performed by Mahalia Jackson; "Mele Kalikimaka" performed by SOL3 MIO
Now, More Than Ever: Issue 49
The challenge while preparing a holiday-themed Now, More Than Ever (and having included some terrific Hanukkah-related music last week) is to come up with a playlist that—if only to be more adventurous and less predictable—does not include excerpts from either The Nutcracker or Messiah, though the latter is one of my favorite pieces. (And speaking personally, I also tried—without quite succeeding!—to avoid carols.) Many of us share a common library of cultural references for the holidays (from Charlie Brown and the Grinch to Mr. Magoo and the Sugar Plum Fairy), so I hope you'll think of this edition of NMTE—as well as last week's—as an attempt to expand the focus a bit and recognize some of the breadth and scope of these beloved annual celebrations.
As we move together into the final days of an unforgettable—if, in many ways, difficult and painful—year, let me speak for all of us at Cal Performances in wishing you a Merry Christmas and joyous holiday season, whatever personal or religious traditions you honor. We will return in the last days of the year with a special New Year's Eve-themed installment of Now, More Than Ever.
Bach: "Flößt, mein Heiland" from Christmas Oratorio, BWV 248
Concentus Musicus Wien
Soloists of the Tölzer Knabenchor
Nikolaus Harnoncourt, conductor
Gerhard Schmidt-Gaden, chorus master
(If this video does not begin at 9:20, please reset it. This excerpt ends at 16:01.)
As popular as Messiah is at this time of year in the English-speaking world, Bach's Christmas Oratorio is just as big a deal—if not more so—elsewhere, especially in German-speaking countries. Taken as a whole (six cantatas intended to be performed over the "12 Days of Christmas"), it was not conceived as a work to be heard in total. Many conventions and performance traditions have evolved over the centuries, but today, when it's presented under the name Christmas Oratorio, you'll usually be hearing just the first three parts.
My favorite moment in the entire work is this splendid "echo" aria; it's from the fourth cantata, which is why it might be unfamiliar to you. The effect may not be quite as magical on video as it is in person—you'll need to imagine hearing the "echoes" emanating from either behind the stage or from somewhere else in the house—but it's still pretty wonderful.
I chose this particular performance—filmed somewhere in Austria, I believe (please let me know if you recognize the venue)—because it honors the tradition that existed during Bach's time that called for the soprano and alto parts to be performed entirely (or doubled) by boys. This all comes across as certainly "different" to our modern ears, but the ethereal sounds of the renowned Tölzer Knabenchor boys' choir provide a tantalizing suggestion of what this music would have sounded like to Bach and his fellow parishioners.
Does your name instill, my savior, does it instill
Even the tiniest seed
Of that fierce terror?
No, you yourself say (No!)
Shall I now be afraid of death?
No, your sweet word is there!
Or should I rejoice?
Yes, you my savior, say it yourself (Yes!)
Corelli: Concerto grosso in G minor, Op. 6, No. 8, Christmas Concerto
Freiburger Barokorchester
Arcangelo Corelli (1653–1713) was the great Italian master of the concerto grosso (music written for a group of solo instruments accompanied by an orchestra), and this is his most famous work in that genre. Joyful and impassioned, and bearing the inscription "Composed for Christmas Eve," it's also unusual in that—of all the composer's works in the genre—this is the only one composed with some sort of sacred program in mind. The breathtaking final movement—a pastorale—is particularly moving, a sublime musical portrait of the manger scene in the familiar story of Jesus' birth.
The sound on this video may be impressive but bear in mind that while Baroque orchestras generally feature historically accurate articulation, the gut strings on which the viols play generally do not produce the "big" sound we hear on recordings. You have to be in a pretty small space to fully appreciate a group like this.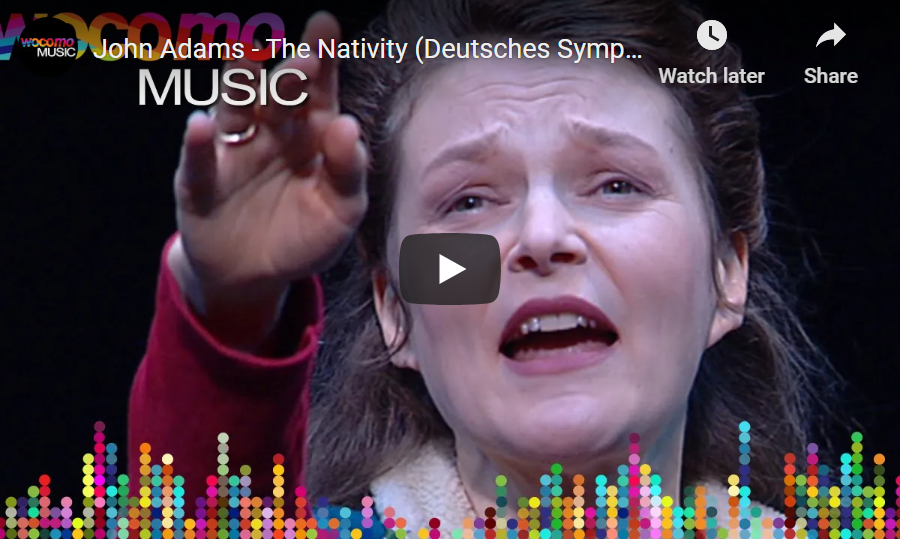 John Adams: "The Christmas Star" from El Niño
Peter Sellars, libretto and director
Dawn Upshaw, soprano
Lorraine Hunt Lieberson, mezzo-soprano
Sir Willard White, baritone
Deutsches Symphonie-Orchester Berlin
Kent Nagano, conductor
(If this video does not begin at 54:01, please reset it.)
The 2000 world premiere of composer John Adams' and director Peter Sellars' El Niño (the two also collaborated on the libretto) at Paris' Théâtre du Châtelet was a hybrid musical and theatrical production based on the traditional Nativity story, incorporating contemporary sources in an effort to contextualize it for our time. Comparing the work to Bach's Christmas Oratorio and Handel's Messiah, the New York Times wrote:
In a way "El Niño" (2000) is best suited to the business of telling the Nativity story; certainly it is more purely a Christmas work than the ubiquitous "Messiah," of which only the first third leads to the birth of Jesus (and is mostly prophecy), with the rest better suited to Easter…. [The] text sources have a diversity that says as much about our time as Bach's and Handel's biblical sources say about theirs. Mr. Adams draws on the Bible as well, but uses extra details from the New Testament Apocrypha (the Gospels of James and Pseudo-Matthew), an English medieval carol and a mystery play, as well as a significant helping of Latin American poetry, some of it secular (but about birth).
Here, we find a young woman carrying the Christmas star; it's burning her hands and there's a tremendous sense of urgency and drive, a perfect musical metaphor for the impending birth of Jesus. It all makes for a thrilling close to Act 1, with Adams' ecstatic music delivered powerfully by the assembled instrumentalists, soloists, assorted vocal ensembles, and dancers.
For another excerpt from this memorable production, please see Now, More Than Ever, Issue 11. An English translation of this scene will be found at the end of this blog post.
Gruber/Mohr: "Silent Night"
Mahalia Jackson, vocals
As I said earlier, I tried to avoid traditional carols in today's selections, but when you listen to the one and only Mahalia Jackson deliver "Silent Night" with such dignity, simplicity, and quiet power, there's no reason to stand on false principles. If ever there was a voice that could charm the birds from the trees, this is it. She convinces you of the truth of anything she sings.
Anderson: "Mele Kalikimaka"
SOL3 MIO
Bay Area audiences will be no strangers to tenor Pene Pati, who recently scored a triumph at San Francisco Opera with his last-minute opening-night lead performance in Gounod's Romeo and Juliet. ("He's got a vigorous, full-bodied sound with a lustrous mid-range and glorious, perfectly placed top notes," said the San Francisco Chronicle. "Pati sings in a gleaming, sensuous stream of sound, with heroic accents in more athletic passages and a warm, tenderly inviting depth for moments of romantic intimacy.")
Her, the fine SOL3 MIO trio—featuring Pene; his brother, tenor Amitai; and his cousin, baritone Moses Mackay, all three New Zealanders of Samoan descent—performs one of the big hits from its popular holiday show. The title is actually a loan phrase from English and is the closest approximation of "Merry Christmas" in the Hawaiian language. The song is most famous from a 1950 Decca recording by Bing Crosby and the Andrews Sisters.
ENGLISH TRANSLATIONS
The Christmas Star
A little girl
comes running,
she caught and carries a star.
She goes flying, making the plants
and animals she passes
bend with fire.
Her hands already sizzle,
she tires, wavers, stumbles,
and falls headlong,
but she gets right up with it again.
Her hands don't burn away,
nor does the star break apart,
although her face, arms,
chest and hair are on fire.
She burns down to her waist.
People shout at her
and she won't let it go;
her hands are covered with burns
but she won't release the star.
Oh how she sows its seeds
as it hums and flies.
They try to take it away—
but how can she live
without her star?
It didn't simply fall—it didn't.
It remained without her,
and now she runs without a body,
changed, transformed into ashes.
The road catches fire
and our braids burn,
and now we all receive her
because the entire Earth is burning.
—(Gabriela Mistral; translated by Maria Jacketti)
from Gabriela Mistral: A Reader, edited by Marjorie Agosin
O quam preciosa
O how precious is the virginity
of this virgin
whose gate is closed,
and whose womb
holy divinity infused
with his warmth,
so that a flower grew in her.
And the Son of God
through her secret passage
came forth like the dawn.
Thus the tender shoot
which is her Son,
opened paradise
through the enclosure
of her womb.
And the Son of Man
through her secret passage
came forth like the dawn.
—Hildegard von Bingen
(interpolated in "The Christmas Star")


Now, More Than Ever Full Playlist






Now, More Than Ever Spotify Playlist




Share This Story!
You might also like: