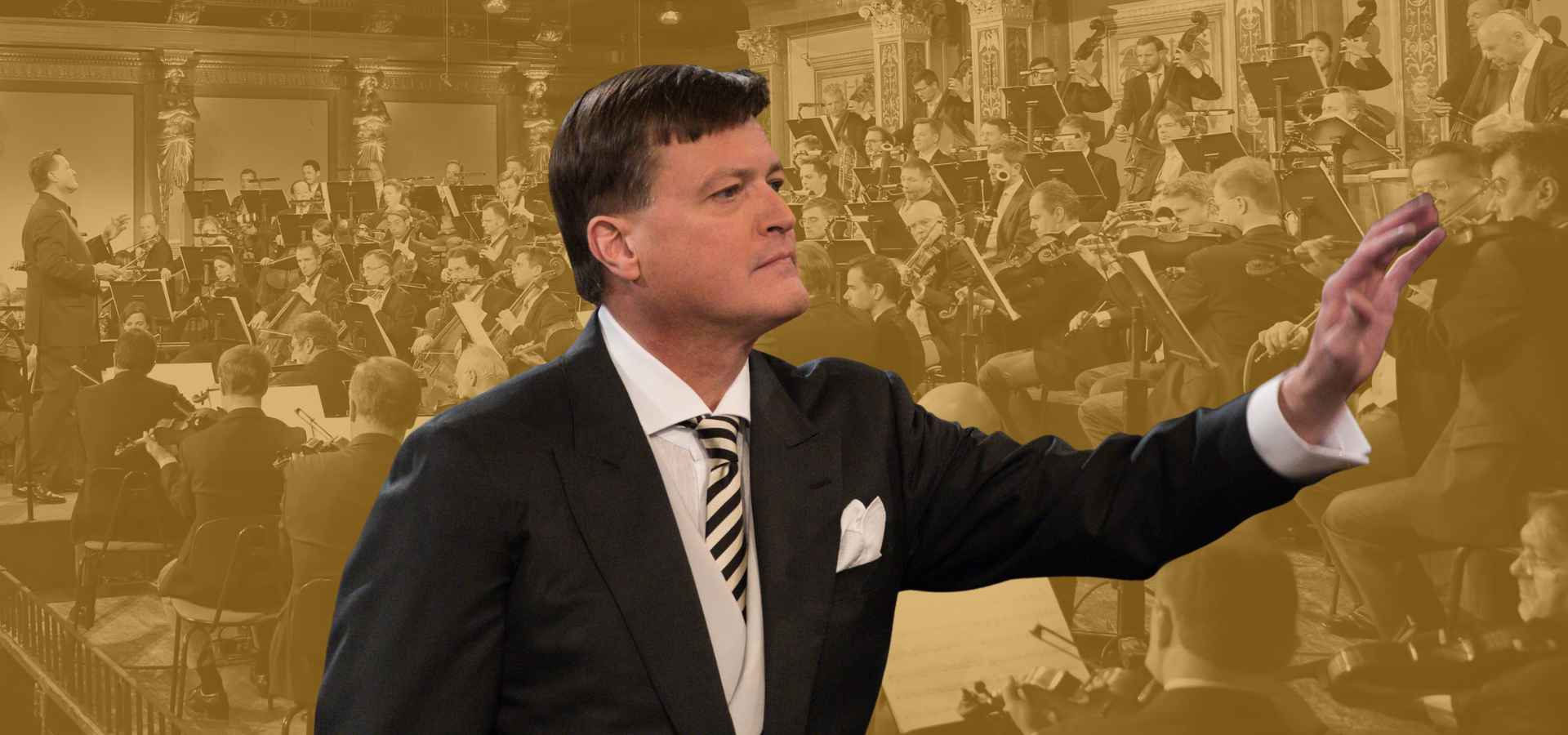 The Changing Orchestra Makeup of the Vienna Philharmonic
Explore the dynamic instrumentation used to bring this acclaimed orchestra's March program to life!
February 3, 2023
Take a look inside the instrumentation of Strauss' Alpine Symphony, Mendelssohn's The Hebrides Overture, and Bruckner's Symphony No. 8.
Video by Tiffany Valvo, Cal Performances' Social Media and Digital Content Specialist.
Transcript
The Vienna Philharmonic is considered to be one of the finest orchestras in the world and we are so thrilled they will be playing three separate programs at Zellerbach Hall on March 7, 8, and 9! And today, we're going to explore the orchestration, instrumentation, and some fun facts about one piece on each of their three incredible programs.
Let's start by setting the stage — literally.
The standard orchestra has about 100 players. However, this greatly depends on the piece being played and when it was written. The setup, like where the cellos sit on stage, for example, depends on the preference of the conductor and the ensemble.
However, in a standard orchestra the string section is made up of about 16 first violins, 14 second violins , 12 violas , 10 cellos, 6 double basses.
There may be a harp and a keyboard instrument added, although that's very dependent on the piece.
The woodwind section has 2 flutes, 2 oboes, 2 bassoons, and 2 clarinets.
You've got a brass section with 4 horns, 2 trumpets, 2 trombones, and possibly a tuba!
And then you have percussion and a timpanist — that lonely orange circle to the right.
Typically in the Vienna Philharmonic, the violins are split so that the first violins are on stage right and the second violins on stage left, on the outside of the orchestra. The double basses sometimes sit in the back of the orchestra in theater position, but likely at Zellerbach they'll be on stage right behind the first violins.
Let's talk about Vienna's first program, which includes one of the most epic orchestral works written in the 21st century: Richard Strauss' Alpine Symphony, written in 1915. It is one of Strauss's largest non-operatic works; the score calls for about 125 players and a typical performance usually lasts around 50 minutes.
This work is considered a tone poem because it evokes the content of a story or landscape. In this case, the symphony is depicting the eleven hours (from daybreak just before dawn to the following nightfall) spent climbing an Alpine mountain.
Let's talk about this orchestra of 125 people.
First, we will start with our strings. This may be larger considering the amount of winds, brass, and percussion we are about to add, but, we will keep it standard for now. To keep track, we've marked the original standard orchestra in black.
Okay, here we go. Excitingly, we're going to keep our keyboard instrument, a celeste, and add a harp.
The woodwind section is going to double, with 4 players in each section. We will add a piccolo, an Eb clarinet and a bass clarinet, a contrabassoon, and, arguably most interestingly, a heckelphone!
The heckelphone is an oboe-like instrument that was first used in Strauss' Salome. There are about 100 in the world, so it's definitely not very common. What a treat we will get to hear one!
Then, we will more than double the brass section with 8 French horns (with 4 of those players also doubling on a horn-like instrument called the Wagner tuba), 4 trumpets, 4 trombones, 2 tubas, and a large amount of off-stage brass.
There are an array of percussion parts, including a wind and thunder machine.
To hear this many musicians on stage is an incredibly powerful experience. The sound will engulf you as you imagine your own Alpine mountain journey.
____
The second program features Brahms' serene and supremely lyrical Symphony No. 2, introduced by two Mendelssohn works inspired by his travels in Scotland.
Let's talk about one of those, The Hebrides Overture! This gorgeous 10-minute masterpiece evokes the composer's 1829 excursion to a sea cave known as Fingal's Cave.
Let's start with our Alpine Symphony instrumentation and watch it drastically reduce for Hebrides… ready?!
This piece is scored for 2 flutes, 2 oboes, 2 clarinets, 2 bassoons, 2 horns, 2 trumpets, timpani, and strings.
The themes in this piece portray the power and stunning beauty of the cave, in addition to the sea and rolling waves. A moment to listen for comes towards the end of the work when there is an absolutely gorgeous clarinet duet.
And, speaking of clarinets, one of the things that makes Vienna sound so special is their use of slightly different instruments. The clarinetists will be playing German/Viennese-system instruments which have slightly different keywork and are known for their rich, dark sound in comparison to the typical French system instruments heard in the majority of orchestras around the world.
The rest of this program will be an absolute joy.
____
Now on to program number three! Yes, it includes just one massive, epic work: Anton Bruckner's Symphony No. 8, which happens to be his last completed symphony. He nearly finished his ninth, but died before it was complete.
The eighth symphony was first composed in 1887 with a second version being completed in 1890 and it was premiered by none other than the Vienna Philharmonic at the Musikverein in 1892.
The history that this ensemble has with this composer and music make it absolutely magical to hear them play it — it's almost as if this music lives within their DNA.
The instrumentation for this work is also very large. Let's start again with the Alpine Symphony setup and watch it minimize just slightly.
We will keep both harps.
The winds are now 3 to a section instead of 4.
We still have 8 French horns, with half still doubling on Wagner tubas. The rest of the brass is just reduced slightly with 3 trumpets and trombones and 1 tuba.
____
To conclude this deep dive into the Vienna Philharmonic's three upcoming programs at Cal Performances, we'd just like to say that seeing this ensemble with conductor Christian Thielemann will be the ultimate orchestral treat. As a matter of fact, it feels positively extravagant. See you there!