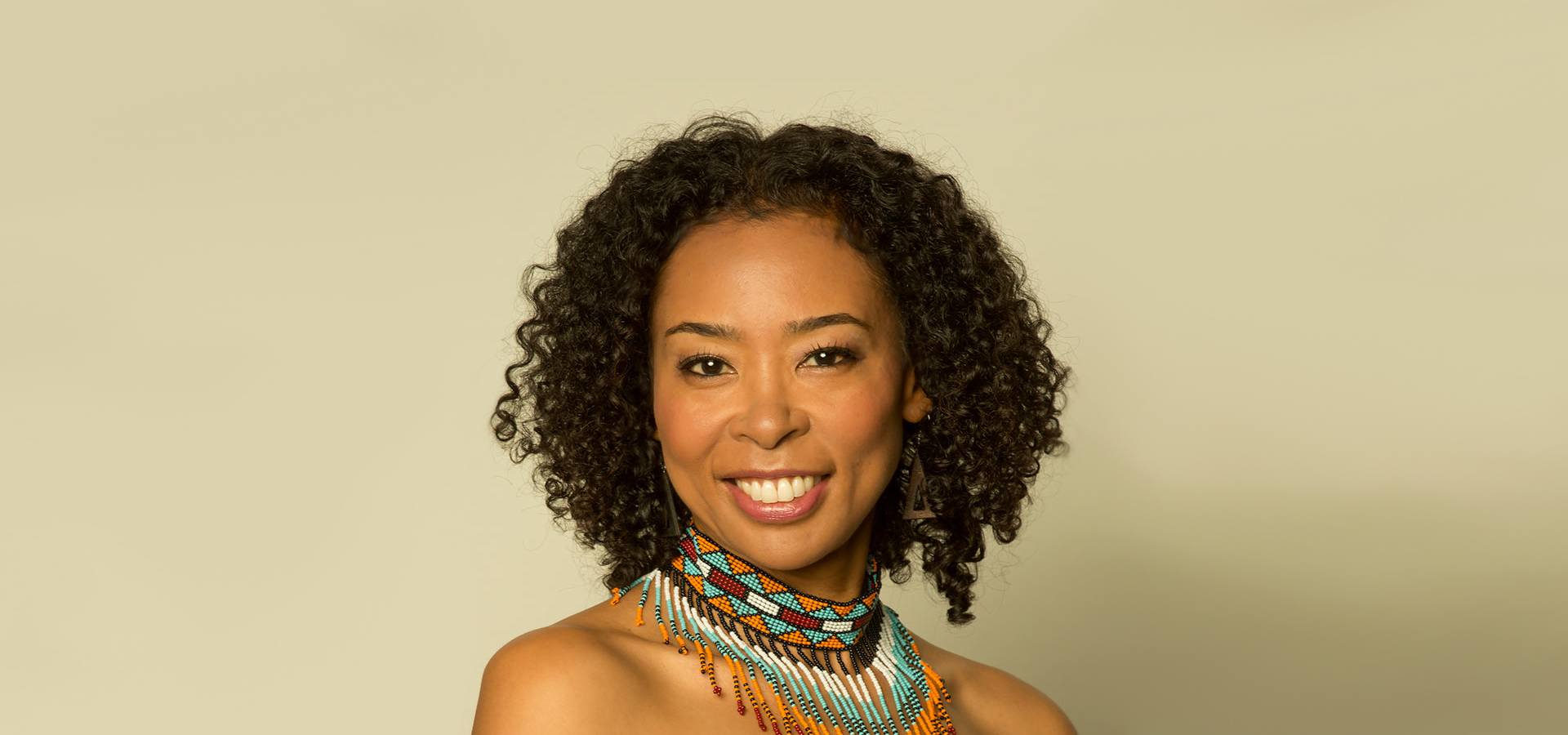 The Making of Ngwenyama's Flow, Inspired by the Natural World
Read what inspired Ngwenyama to create this new composition for the Takács Quartet, making its world premiere at Cal Performances November 2023.
November 1, 2023
"We are part of that same energy, we are the dust from these ancient creative events. And thus we are all tied together."
By Thomas May, Cal Performances-commissioned writer, critic, educator, and translator
The string quartet, according to composer Nokuthula Ngwenyama, "is considered a 'perfect' ensemble. It inspires delicacy, sensitivity and adventure. The core range is smaller than that of the piano, yet its timbre allows for beauteous interplay." For the first of its two Cal Performances appearances this season, the Takács Quartet presents the world premiere of Ngwenyama's debut in the genre, which the ensemble commissioned "because of our admiration for her as a virtuosic violist and performer who understands the dramatic and sonorous possibilities of a string quartet."
Ngwenyama demonstrates this understanding in her new work, Flow, a centerpiece of the Takács Quartet's current season. Responding to the ensemble's request to write something inspired by "the natural world," she locates her new composition in a tradition that recognizes the string quartet as uniquely well-suited to conveying profound reflections on existence and the human condition.
Ngwenyama, who is of Zimbabwean-Japanese parentage, explains that her first and last names (Her full name is Nokuthula Endo Ngwenyama.), respectively, signify "mother of peace" and "lion" in Zulu. A native of Los Angeles who is now based in Phoenix, Ngwenyama studied at the Colburn School, the Curtis Institute, and the Paris Conservatoire. She initially came to international attention as a violist at the age of 16, winning first prize at the fourth edition of the Primrose International Viola Competition in 1993. Her distinguished career as a violist has taken Ngwenyama to audiences around the world—including at the White House.
Parallel to her career as a soloist and chamber musician, Ngwenyama has emerged in recent years as a composer with a growing catalog of works primarily for strings. "I write from the place that I know, which tends to come from the viola," she says. "I think of it as the heart of the sound and feel very comfortable there." She became the first-ever composer-in-residence with the Phoenix Chamber Music Society and is now devoting the majority of her creative time to composing—including a second piano quartet for Espressivo! with Anna Polansky, Jaime Laredo, Milena Pájaro-van de Stadt, and Sharon Robinson and a new piece commissioned for the semi-final rounds of the 2024 Primrose International Viola Competition, which will be held in June at the Colburn School in Los Angeles.
While performing at the Marlboro Music Festival, Ngwenyama got to know violinist Harumi Rhodes and welcomed the opportunity to write a piece for the Takács Quartet but also experienced a mix of emotions: "I was surprised, greatly honored, and fearful," she recalls. The ensemble's request that she write "about anything in the natural world"—in keeping with lead commissioner Cal Performances' suggestion—led to more than a year's worth of research into topics encompassing "the life cycle, carbon reclamation, environmental protection, animal communication, starling murmurations, our last universal common ancestor (LUCA), black hole collisions, and the subatomic realm."
Along with Ngwenyama's scientific investigations into such matters as cosmogony and quantum physics, Flow distills her deep study of spiritual traditions: in particular, of yoga and its understanding of the meaning of breath. (The composer also holds a master's degree in theological studies from Harvard Divinity School.) The concepts of Om—which she defines as "the first source of sound and act of creation"—and Prana ("creative energy") are central to Flow. Ngwenyama asks the quartet to manifest these concepts and connect with each other through breath control, which in turn is meant to encourage a mindful awareness within the audience.
"We are part of that same energy, we are the dust from these ancient creative events," Ngwenyama observes. "And thus we are all tied together." She describes her musical representation of Om as appearing mostly "on an upbeat as a widely vibrated pizzicato glissando in the cello imitating rhythmic placement of the gong in Balinese gamelan. That, in turn, imitates the vibrational birthing energy of our universe." Flow relies on other extended techniques as well, such as sul ponticello overtones or astonishingly high pitches, to evoke a sense of these moments of cosmic drama.
The a priori template of a four-movement quartet was not part of Ngwenyama's initial concept. The "Prana moment" of Flow itself—its point of origin— was instead a solo idea for the viola early in what became the finale. She continued by writing music that would culminate in this passage and was surprised to discover that the piece naturally took shape as a multi-movement form, the first three movements serving as a "preamble" leading to this original inspiration. But these in turn developed in new directions. Material from the first movement is thus developed in the finale, for example, "because all matter was put into our universe in an instant."
Here is an excerpt from the commentary Ngwenyama has provided:
Flow starts like gas seeping from an infinitely full balloon about to pop. Then, as matter inflates space, climactic material is presented almost immediately before abruptly burning out for the universal dark ages. The Prelude examines "B'ing/BE'ing" melodically and harmonically through moments of pranayama (the transformative power of breath) [the notes "B" and "B" in tandem with "E" symbolizing hydrogen and helium, respectively]. It ends with a trailing Om.

The Lento brings further cooling and space in chorale around an octave B-centric pedal. Prelude motifs are given room to develop. The "Quark" Scherzo explores our fundamentally playful selves vibrating here, there—and where? Our sub-atomic realm giddily waltzes up and down while we embrace the ideas of solidity and ego. The opening cello mimics quark motion [i.e., triad combinations of protons and neutrons in an "up" or "down" direction]. The trio, whose only claim to three is triplets in the cello line, provides no break for anyone and instead intones a ballade. The movement ends in virtuosic flurry.

The Finale settles into a stylized recitative where three lower strings solo before coming together to feature a soaring treble voice. Flowing triplets turn into a Classical Indian Dadra Tal (even six beat) rhythm in the bass line while upper strings bow their bouts to simulate Cosmic Microwave Background (CMB) radiation. Upper strings join in via pizzicato glissandi. There is a return to the Prelude opening, then a slingshot into awe-inspiring starling murmurations. Lower strings drive unrelentingly while violin lines chase the other as one mind, instantaneously turning, merging, and transforming beyond individuality. They eventually land, the sky calms through a long D overtone glissando, and a retreating tremolo reveals: Enjoy and go with the Flow, we only know what we know.
Cal Performances looks forward to presenting the world premiere of this epic work, paired in concert with Haydn's Sunrise quartet and Beethoven's middle-period E minor quartet from the Op. 59 Razumovsky series, on November 12. Learn more about the Takács Quartet's performance and get tickets to see the world premiere of Flow.