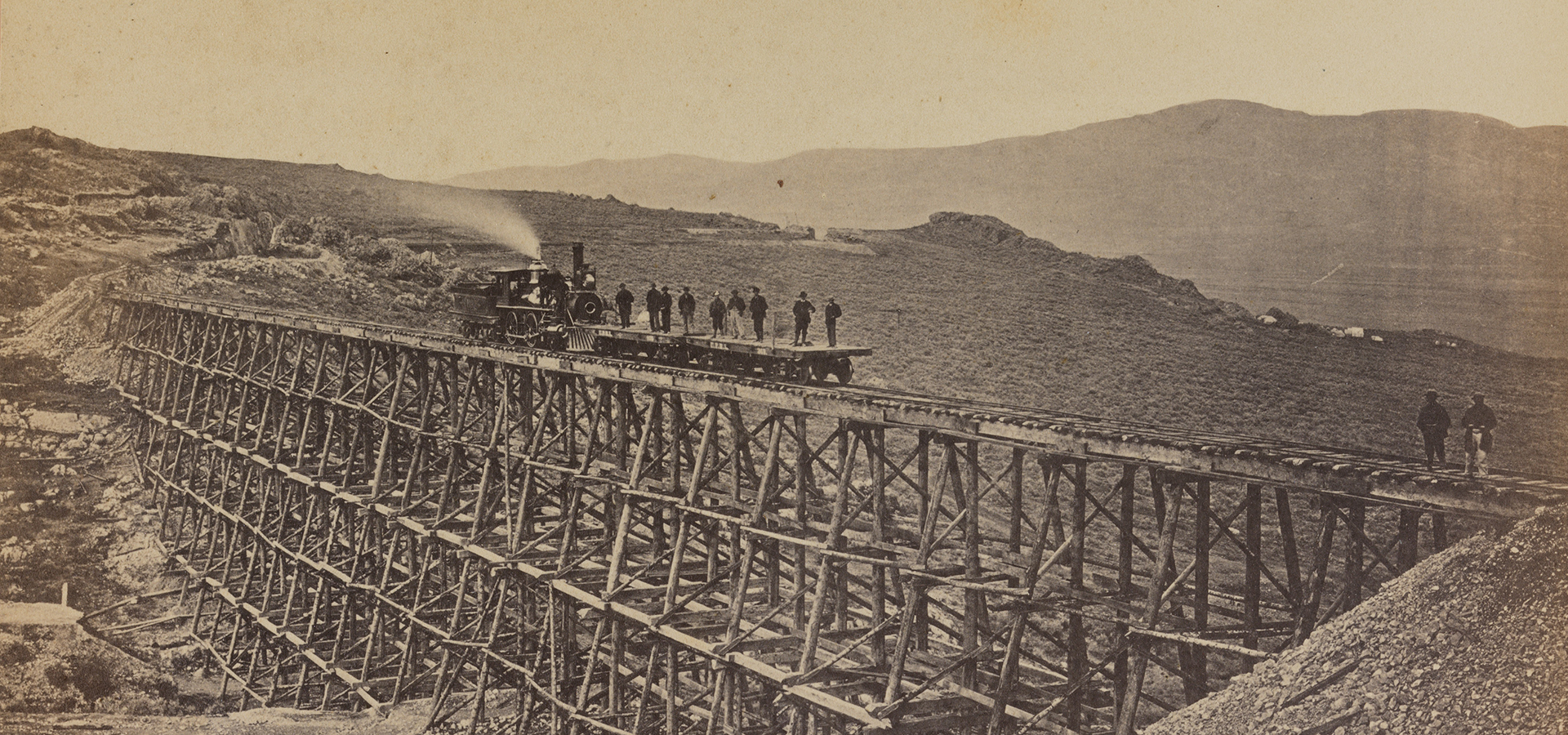 Shifting Artistic Representation of the US's First Transcontinental Railroad
American Studies professor Alexander Craghead discusses how various narratives about peoples who built the Transcontinental Railroad have changed over time, and how art has amplified the message.
November 9, 2023
"The past may be the past, but history is the stories we tell about the past. Rather, it's not what happened, but how we understand what happened. And it's always open to reinterpretation."
By Krista Thomas, Cal Performances' Associate Director of Communications
On November 17, 2023, Silkroad Ensemble and Rhiannon Giddens bring their groundbreaking new-music project American Railroad to Zellerbach Hall. Conceived as an artistic means of illuminating the contributions of under-recognized voices in the creation of the US's first transcontinental railroad, the production weaves together elements of African American, Chinese, Irish, Japanese, Indigenous, and other communities' cultures and music. This performance also provides a unique lens for understanding Cal Performances' 2023–24 Illuminations series, "Individual & Community."
A primary advantage of hosting such meaningful performances at Cal Performances is the organization's university context, which carries the potential to enrich our understanding of what we see on stage. Amidst the vast array of talented researchers, lecturers, and thinkers at UC Berkeley, the university is fortunate to employ one of the nation's preeminent railroad scholars, Dr. Alexander Benjamin Craghead. A professor in the American Studies program, Craghead's research centers on the intersection of technology, representation, and landscape, particularly as depicted with photography. Like Silkroad Ensemble and Giddens, he is working to uncover a history that has traditionally ignored some crucial voices.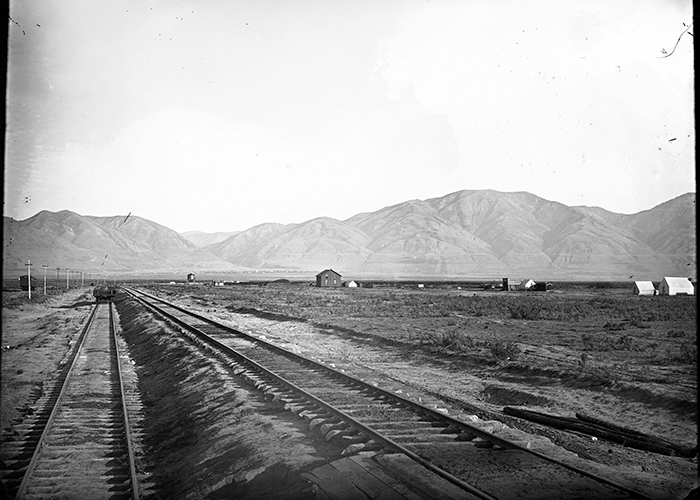 Photograph by Andrew J. Russell showing a portion of a distant Mormon community. Panoramic No 1, 219 Salt Lake Valley from Corinne, Brigham City in the Distance, c. 1869, Union Pacific Railroad, Oakland Museum of California, H69.459.2023.
When the transcontinental railroad was first being discussed in the 1840s and 1850s, a vast railroad network already existed in eastern and parts of the midwestern US; however, the western states—some of which were not even official states yet—lacked reliable overland transportation systems, which had the effect of isolating them from the rest of the US and, most notably, from political control. According to Craghead, the push to develop the transcontinental railroad was primarily motivated by US politicians' desire to have those in the west be better incorporated into the nation. To encourage a faster build (and to increase the likelihood of successful completion, given that overcoming the landscaping and organizational challenges at this level would be a tremendous feat), the build was awarded in 1862 to two companies that would build toward each other from opposite ends of the track: the Central Pacific, which was based in California (moving eastward), and the Union Pacific, which was based in Nebraska (moving westward).
The demographic makeup of the labor forces was different for each company, and was heavily influenced by the company's location and connections. The Union Pacific employed primarily Irish immigrants as well as African Americans who had been enslaved prior to the Civil War. The Central Pacific, on the other hand, depended heavily on Chinese nationals, many of whom were brought over by Chinese labor brokers with the intention of working and then returning home upon completion of the project. And though they didn't typically directly contribute to railroad work, it would be negligent to leave out an acknowledgment of the many Native American peoples who were significantly impacted by the railroad, as laying tracks often followed either a negotiated or a forceful takeover of tribal lands.
Though the railroad represented a variety of things to those actively involved with the project,  public messaging and perception have tended to follow a more simplistic narrative, ignoring the reality of those with less financial and political capital. "The past may be the past, but history is the stories we tell about the past. Rather, it's not what happened, but how we understand what happened, and it's always open to reinterpretation," said Craghead.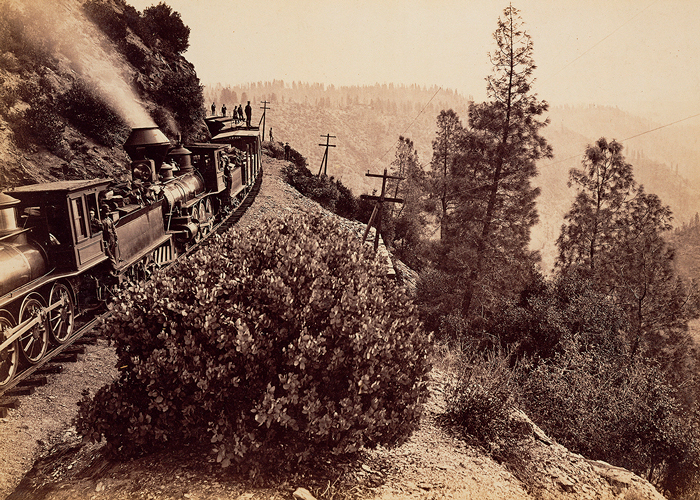 Photograph by Carleton E. Watkins. Cape Horn, C.P.R.R., circa 1878, Central Pacific Railroad, J. Paul Getty Museum, 94.XA.113.23. Accessed digitally from  Center for Railroad Photography & Art's "After Promontory" exhibit site.
According to him, narratives that dominated during that time about the railroad could be grouped into a few dominant categories: that the railroad was part of America's Manifest Destiny; that the railroad was a "triumph of technology over nature" and that this innovation was "building the future"; and that the railroad was a means of bringing economic prosperity to less populated areas (particularly to fledgling communities that the tracks would run through). The narratives that proliferated were curated primarily by politicians, business executives and investors in expansion, and public intellectuals who wrote newspaper articles and appeared on traveling lecture circuits; and often made no reference to the hard work and contributions of the diverse labor force making the project possible.
A strong example of this void is in the famous photograph taken at the Golden Spike (railroad completion) ceremony (pictured below this paragraph) in 1869 by A.J. Russell, which would become a widely recognized symbol of national pride and accomplishment. The ceremony as told via the photograph became the subject of reenactments at festivals and patriotic fairs throughout the country for decades to come, served as inspiration for Hollywood films (particularly around the 1930s), and even led the government to later declare Promontory Point (where the ceremony took place) a national monument, where the Parks department facilitates regular reenactments to this day. For years, scholars have debated whether a single blurry figure in the foreground of one of these photos shows a man of Chinese descent, with no clear answer; despite the countless and diverse laborers who made this iconic moment of celebration possible, at most one non-White individual is represented.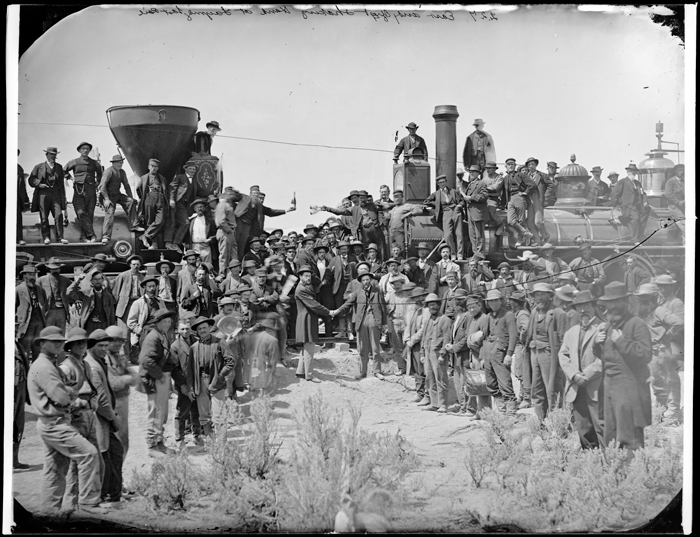 Photograph by Andrew J. Russell. East and West Shaking Hands at Laying Last Rail, 1869. The two men shaking hands are Union Pacific chief engineer Grenville Dodge on the left and the Central Pacific's chief engineer Samual Montegue on the right. Source for information is Klein, Union Pacific, page 232.
In recent years, Craghead asserts there has been a fresh emphasis on reframing the narrative to include the perspectives, contributions, and struggles of those workers intimately involved with the project, not only in scholarship but also through artistic mediums. In the case of the Golden Spike photograph, for example, as the 150th anniversary of the ceremony was approaching, civil rights photographer Corky Lee took on a project of "photographic justice" in 2014 that involved restaging the historic event, but this time included the ancestors of real Chinese railroad workers as the subject of the photographs.
In his own work using and analyzing photography, Craghead turns his attention frequently toward those Native peoples who were displaced as a result of the build. "One of the most important considerations for my work is that I don't want to repeat the false assertion that this was an empty land. To my mind, you can't talk about the railroad and development of the west in an honest way if you're not talking about it as an occupied place for thousands of years; often popular narratives have erased people already here. As a scholar, I think we have a duty to reconsider that narrative, to try and better see the human costs of the extension of the railroads," he said.
Photograph by Timothy H. O'Sullivan, Lo! [Indians (Paiute?), with two Expedition members], 1840-1882. Contributing Institution: UC Berkeley, Bancroft Library.
Additionally, Craghead hopes to draw attention to the numerous and complex identities of those who took over this land, as well as their understanding of their own role and the significance and value of the railroad in their world. He explained, "It wasn't just European Americans colonizing a First Nations space; there were multiple peoples involved: Chinese railroad workers who intended to go home and sometimes never did, raising questions of the intersection between "nationality" and "identity"; people who saw themselves as Californians (as distinct from East Coasters); plain Europeans who were involved from a financial perspective and had their own stakes, their own ideas of what the project was supposed to be about; enslaved people who were recently freed; recent immigrants… There was a collision between multiple peoples that led to a far more complicated and nuanced story than many people understand."
Though reading about these nuances is certainly a fruitful way to gain knowledge of the many ways the railroad impacted various communities, the arts have proven a powerful tool for inspiring deeper understanding. As the campus anticipates Silkroad Ensemble and Giddens' musical depiction, Craghead encourages us to embrace the ways that art can round out our knowledge in a more human way.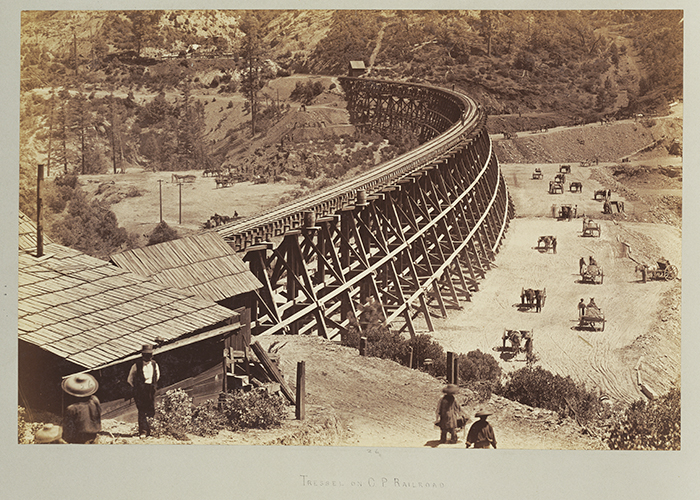 Photograph by Carleton E. Watkins, showing the continued presence of Chinese railroad workers eight years after the railroad's opening. Trestle on Central Pacific Railroad, 1877, Central Pacific Railroad, now Union Pacific, J. Paul Getty Museum, 94.XA.113.26.
"Sometimes when trying to tell historical stories only in text, we can miss out on the embodied implications of what happened or what it was like, other ways of living with these consequences that aren't always accessible. For example, what would it feel like to be in the West, where you've been disconnected from the rest of the country and then suddenly you are connected? What would it feel like to have opportunities expanded with a new job and new life and a place thousands of miles away from everything you've known? What would it be like to have the home you grew up in, where your family and your people have lived for generations, suddenly being claimed by others, and taken against your will?" said Craghead. "There is an emotional resonance to what change is like, and art often gets us closer to that feeling. Humanities sources can give access to a reality that is no longer practical—a reality that doesn't impact you until you're reading a diary, seeing what that person wrote themselves, where their tears hit those pages… Getting out into the field, into art, into music, makes these situations and these people real in a way text sometimes cannot."
Interested in experiencing some of the powerful art that is reshaping the railroad narrative in our modern world? Learn more about Silkroad Ensemble's and Rhiannon Giddens' American Railroad tour, their American Railroad performance at Cal Performances, and Dr. Craghead's research, including multiple photography books and a curated exhibit.
On behalf of Cal Performances, we extend our thanks to Dr. Alexander Craghead for his thoughtful discussion, expertise, and passion, all of which contributed significantly to the writing of this article.
---
Credit to header image: Photograph by Andrew J. Russell. Trestle work, Promontory Point, Salt Lake Valley, 1870, Union Pacific Railroad, California State Library, 1470591. Accessed digitally from  Center for Railroad Photography & Art's "After Promontory" exhibit site.