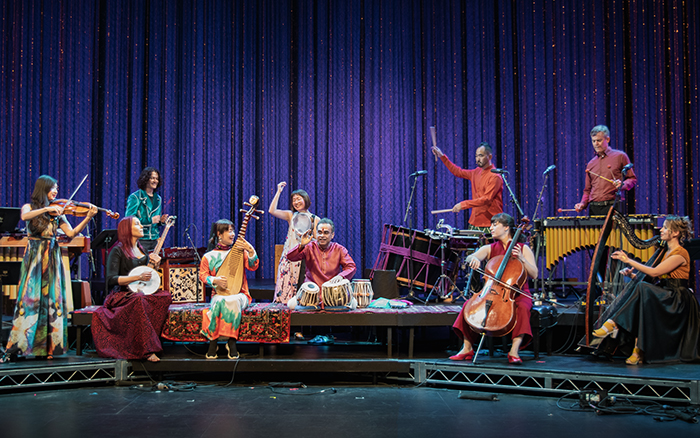 New Music
American Railroad
Silkroad Ensemble with Rhiannon Giddens
Rhiannon Giddens, banjo, voice
Shawn Conley, bass
Pura Fé Crescioni, lap steel guitar, voice
Haruka Fujii, percussion
Sandeep Das, tablas
Karen Ouzounian, cello
Mazz Swift, violin, voice
Niwel Tsumbu, guitar
Francesco Turrisi, frame drums, accordion
Kaoru Watanabe, percussion
Michi Wiancko, violin
Wu Man, pipa
Yazhi Guo, suona, Chinese percussion
Under the leadership of 2023 Pulitzer Prize winner, the dynamic multi-instrumentalist Rhiannon Giddens, the Grammy-winning, genre-defying Silkroad Ensemble embarks on a new initiative that illuminates the impact of under-recognized voices in America's expansion west. The project explores the creation of the Transcontinental Railroad through the contributions of African American, Chinese, Irish, Indigenous, and other communities, their cultures, and their music. Chinese traditional instruments like the guzheng, pipa, erhu, and qinqin are contrasted with the fiddle, bones, tambo, and banjo of Black musical traditions, and their Indigenous and Celtic counterparts. New compositions and commissions weave these disparate traditions together to tell a new version of the American story. As Giddens told the New York Times, "Silkroad has people from all over, and that's what makes it such a great group to represent the American story, because that's what the American story is. We are world music."
Join us for a pre-performance panel at 6:30pm, and a post-performance community conversation.
This event is part of Cal Performances' Illuminations: "Individual & Community" programming for the 2023–24 season.
Patron Sponsors: S. Shariq Yosufzai and Brian James

This project is supported in part by the National Endowment for the Arts.
Nov 17, 2023, 8pm
Add to Calendar
11/17/2023 08:00 pm
11/17/2023 09:30 pm
America/Los_Angeles
American Railroad; Silkroad Ensemble with Rhiannon Giddens
https://calperformances.org/events/2023-24/illuminations-individual-community/american-railroad-silkroad-ensemble-with-rhiannon-giddens/
Zellerbach Hall
Tickets start at $50
Beyond the Stage
WATCH: Jeremy Geffen, john a. powell, and
Illuminations
artists discuss how concepts of individual and community impact society, their work, and their creative practice in this
2023–24 Season Feature
.
Video