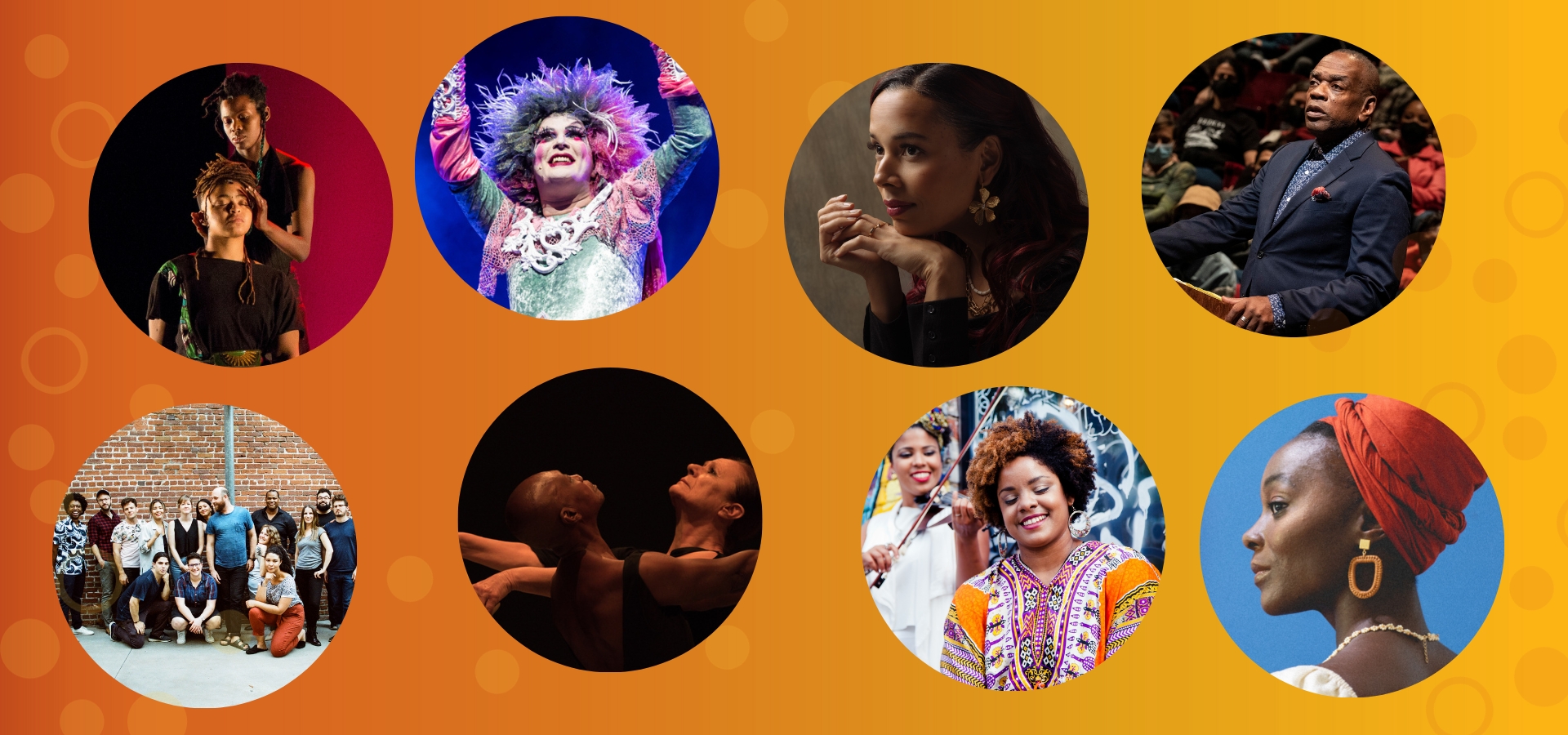 Announcing Illuminations' New Partnerships and Community Event Series Exploring "Individual & Community"
Learn about upcoming community conversations and moderated discussions as well as the convening of brilliant advisors from all across the UC Berkeley campus!
October 12, 2023
"…Anything that brings us together in a positive way is very useful in helping us reinterpret not just the 'other' community, not just the 'other' individual, but also our own community and ourselves."
By Krista Thomas, Cal Performances' Associate Director of Communications
In its fourth year, Cal Performances' Illuminations program is exploring its new theme of "Individual & Community" with an original series of community events, augmented by fresh campus partnerships!
Illuminations launched during Cal Performances' 2020–21 season as a way to connect groundbreaking UC Berkeley scholarship to pressing themes taken up and explored by the world-class music, dance, and theater presented by Cal Performances. Illuminations programming, which includes performances, panel discussions, lecture demonstrations, Q&As, community conversations, and more, sheds light on pressing topics with the power to transform our understanding of the world and shape the future.
Why "Individual & Community"?
As our society faces increasing polarization and radicalization, this year's theme of "Individual & Community" will empower us to explore the tensions that come into play while balancing the interests of the individual with the interests of the group.
john a. powell, director of the Othering & Belonging Institute at UC Berkeley, said, "The concept of individuality and community is constantly in flux, although this real emphasis on individuality is relatively recent; if you go back 300 or 400 years, it wasn't relevant. And so, as the individual emerged… initially in Western society, it was always the question of the relationship between the individual and the community. Neither one of them is static, and that's one of the mistakes that we make. They're constantly moving." powell continues, "And music, dance, art is an…expression of meaning at a deep spiritual level… So anything that brings us together in a positive way is very useful in helping us reinterpret not just the 'other' community, not just the 'other' individual, but also our own community and ourselves."
Based on common threads in the performances coming to Cal Performances' stages and noteworthy scholarship on campus, Cal Performances has opted to focus on three key subtopics related to the concept of "Individual & Community": intersectionality, individual liberties and community needs, and American Dreams and Culture Wars. In the coming months, videos discussing each of these topics in greater depth will be shared on the Beyond the Stage blog.
Enlightening and Participatory Community Events
Throughout the season, eight distinct performances spanning rock opera to modern dance will each pose new questions and offer a fresh lens through which to analyze the concept of "Individual & Community" in our lives and our world. These performances will be augmented by a schedule of complementary moderated discussions with artists and UC Berkeley faculty to find through lines in art and in research; as well as facilitated post-performance community conversations that will allow those in attendance to put the theme into practice by collaboratively discussing their own response to the performance.
Dates of moderated discussions and community conversations are listed on Cal Performances' website, on the event details page of each Illuminations performance. While information about discussion participants and moderators from the university is forthcoming, patrons can expect that many guests will be pulled from the "Individual & Community" lead partner institution and advisory council (Read on for more information.).
An Epicenter of Campus Expertise
In addition to the interpretations of artists, Illuminations programming will include the voices of UC Berkeley faculty and staff, with each participant possessing expertise that adds a new layer to the "Individual & Community" conversation. Campus luminaires will participate in Illuminations events and help shape conversations around the theme, providing points of interest and of access for members of the campus and broader Bay Area community.
Lead Partner
During the 2023–24 season, UC Berkeley's Othering & Belonging Institute (OBI) will serve as Illuminations' lead partner. "Illuminations brings Cal Performances artists and UC Berkeley scholars into thought-provoking conversations, and we are incredibly fortunate to have a resource such as the Othering & Belonging Institute to help us navigate our season-long inquiry into 'Individual & Community,'" said Mina Girgis, Cal Performances' Director of Education, Campus and Community Engagement. "As with Illuminations, OBI works to make academic research available to a non-academic audience. While easily digestible, the institute's frameworks and research are both profound and revolutionary. They also address many of the questions we're exploring throughout the season."
OBI is made up of scholars, organizers, communicators, researchers, artists, and policymakers who focus on "groundbreaking approaches to transforming structural marginalization and inequality." OBI's relationship to "belonging" is rooted in structural equality that uplifts the individual as a means of building community. According to OBI, belonging "means having a meaningful voice and the opportunity to participate in the design of political, social, and cultural structures that shape one's life—the right to both contribute and to make demands upon society and political institutions. At its core, structural belonging holds a radically inclusive vision because it requires mutual power, access, and opportunity among all groups and individuals within a shared container (such as a society, organization, club, etc.)."
OBI's director, john a. powell, also brings perspective as the Robert D. Haas Chancellor's Chair in Equity and Inclusion and as a Professor of Law, African American Studies, and Ethnic Studies at UC Berkeley. Members of OBI will participate in Illuminations programming in a number of faculties, most notably in helping to develop a welcoming space for and facilitate dialogue in post-performance community conversations.
Advisory Council
To provide even greater diversity of thought and expertise, the 2023–24 season will also feature an advisory council that brings together scholars from across the UC Berkeley campus to contribute to Illuminations events, especially moderated discussions and classroom visits, and to introduce perspectives designed to better explore the theme. Through Illuminations' advisory council, Cal Performances will place the performing arts in dialogue with research from eight different UC Berkeley institutions working on new ways of understanding ideas concerning "Individual & Community." Advisory council members currently include:
How to Participate
The best way to participate in this far-reaching dialogue is to attend Illuminations performances and to join in the pre- or post-performance events designed to provide greater context on the theme. Check the specific event page for each performance to find out which dates will include moderated discussions and community conversations. You are also encouraged to keep an eye on Cal Performances' Beyond the Stage blog or sign up for the biweekly email newsletter so you can see when new videos and resources on the topic are uploaded.
"This theme of 'Individual & Community' is special in that it at once connotes a universal, grand context for our societies at large, and at the same time inspires an intimate understanding of our own role within this broader context. Therefore, an exploration of 'Individual & Community' can only be fruitful if we have active participation from individuals who are open to engaging their authentic selves, who bring fresh ideas, and who are willing to reevaluate and challenge those ideas along the way," said Jeremy Geffen, Cal Performances' executive and artistic director. "We hope to work with many members of our own Bay Area, UC Berkeley, artistic, and Cal Performances communities to build something profound this season."