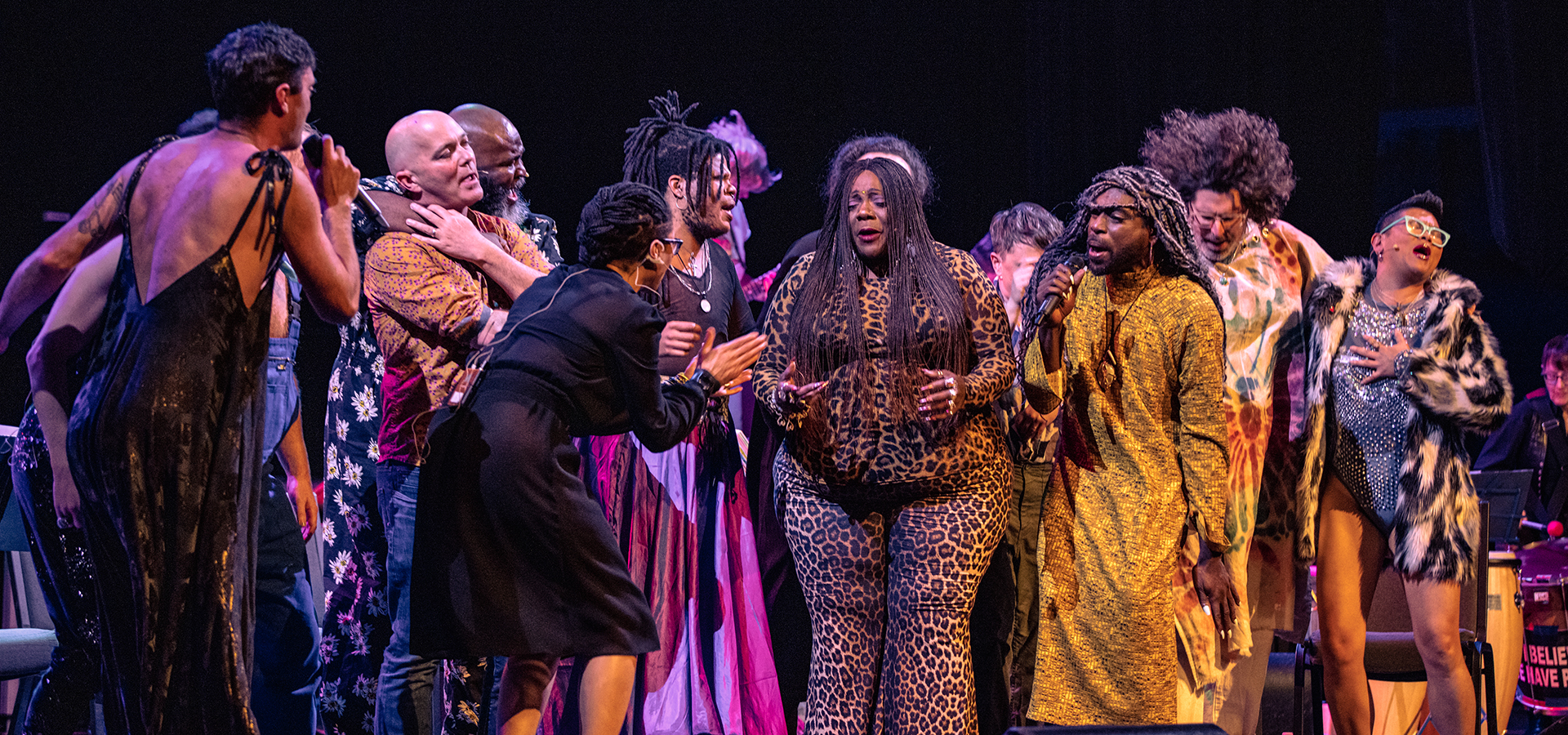 2023–24 Season Illuminations: "Individual & Community"
WATCH: Jeremy Geffen, john a. powell, and Illuminations artists discuss how concepts of individual and community impact society, their work, and their creative practice.
April 18, 2023
Bringing the arts and UC Berkeley scholarship together to explore one of the most foundational challenges of our time.
Now in its fourth year, Cal Performances' Illuminations program continues to connect groundbreaking UC Berkeley scholarship to themes taken up by the world-class music, dance, and theater presented by Cal Performances. This season, Cal Performances will present eight distinct performances as well as public programs created in partnership with campus and community leaders to investigate the tensions that come into play while balancing the interests of the individual with the interest of the group. This video features Cal Performances executive and artistic director Jeremy Geffen; john a. powell, Director of the Othering & Belonging Institute at UC Berkeley; creator Taylor Mac, who will bring this season Taylor Mac & Matt Ray's Bark of Millions: A Parade Trance Extravaganza for the Living Library of the Deviant Theme; conductor Christopher Rountree, who will lead Wild Up in Julius Eastman's Femenine; and Mame Diarra Speis and Courtney J. Cook, co-artistic director and associate artistic director of Urban Bush Women, respectively, who speak to the group's performance of Hair & Other Stories. Each performance—and each artist—offers a unique perspective on this intricate and timely theme. Watch the video to hear more.
Please note that OKAN's performance was added to our Illuminations season following our season announcement so, while they are not reflected in this video, you can find more about OKAN through this full list of Illuminations: Individual & Community performances.
Transcript
Jeremy Geffen:
Cal Performance's Illuminations thematic programming explores the intersection between the performing arts and the groundbreaking scholarship that UC Berkeley is known for throughout the world. By investigating how the arts and scholarship connect, we can more holistically understand the most urgent questions of our time. Our 2023–24 Illuminations theme is "Individual & Community." Through this year's theme, we aim to explore the inherent tension between our desire to distinguish, delineate, and live life on our own terms, and our need to exist and work together as a collective.
john a. powell:
The concept of individuality and community is constantly in flux, although this sort of real emphasis on individuality is relatively recent, so, you go back three, 400 years, it wasn't relevant. And so, as the individual emerged, mainly in Western society or initially in Western society, it was always the question of the relationship between the individual and the community. And neither one of them is static, and that's one of the mistakes that we make. They're constantly moving.
All of us are part of multiple communities. Some are more important than others. We all carry multiple aspects of our identities, coming from those various communities. And sometimes, we have ideas about both how we express ourselves, but also how other individuals and other communities express themselves, so it's really multilayered. And music, dance, art is an expression, not just of fun, this is an expression of meaning at sort of a deep spiritual level. But we don't listen to the same music, we don't watch the same dance, so anything that brings us together in a positive way is very useful, and to help us reinterpret not just the other community, not just the other individual, but our own community and ourselves.
Jeremy Geffen:
Using the performing arts as our springboard, we'll investigate the implications of the concepts of individual and community in our lives through public programming in collaboration with campus partners, as well as through seven distinct performances, each offering their own singular perspective.
Taylor Mac:
We call it the Bark of Millions. It's 54 songs, one song for every year after Stonewall, inspired by a different queer person from world history, and they're all people that I never would've known about in my entire upbringing. And it's an exploration of the ideas that these people inspire. And then also, I'm making a show about a community, and the audience is part of that community, so I need space for them too. So, there's a sense of the activism of taking over the big space is important. It's part of the art of this piece, and we just sing songs, and they're just really fun.
Chris Rountree:
Femenine is the kind of piece that makes one contemplate the immensity of reality. It is cosmic in nature. It's so big, and that could take any number of shapes. His pieces are at once totally joyous, post-gospel minimalism, that is truly about ecstasy. They are also pieces about individual agency for artists, where that is the core central aspect of all of the works, in terms of the way that they are on the page is 'everyone, make choices all the time.' I'm speaking a lot about the individual with Eastman's work, and it's because what we think about first is like what agency we have and how we look at what he wrote for us, metabolize it like it's like ambrosia nectar, and then breathe out ourselves. So, that's a huge part of it, but what that does is it builds a community. They're works that build a community, and that's really why they're so special, is they're something to gather around and share.
Mame Diarra Speis:
Hair & Other Stories is a dance-theater work that uses hair as a frame to really take a deeper dive into conversations around systemic racism.
Courtney J. Cook:
So it's not just about performing, but also about what kind of conversations, what kind of relationships we're building with the folks whose stories are reflected in the work.
Mame Diarra Speis:
And so, in order for us to be in a dialogue, that means everyone in the room has to participate. And so essentially, what we were doing was breaking the fourth wall with the audience and saying, "Hey, you are a part of this as well. If I'm examining and if I'm unpacking, then let's ask these questions of you," because at the end of the day, we're trying to lift up everyone's humanity inside of this work.
Courtney J. Cook:
To do the work on themselves and to do the work with the folks in their community, a sense of the agency to be able to hold that kind of work, and to know that it is possible, and that it's not a quick fix. And so Hair & Other Stories intentionally bridges both performance and community engagement.
Explore More 2023–24 Season Features