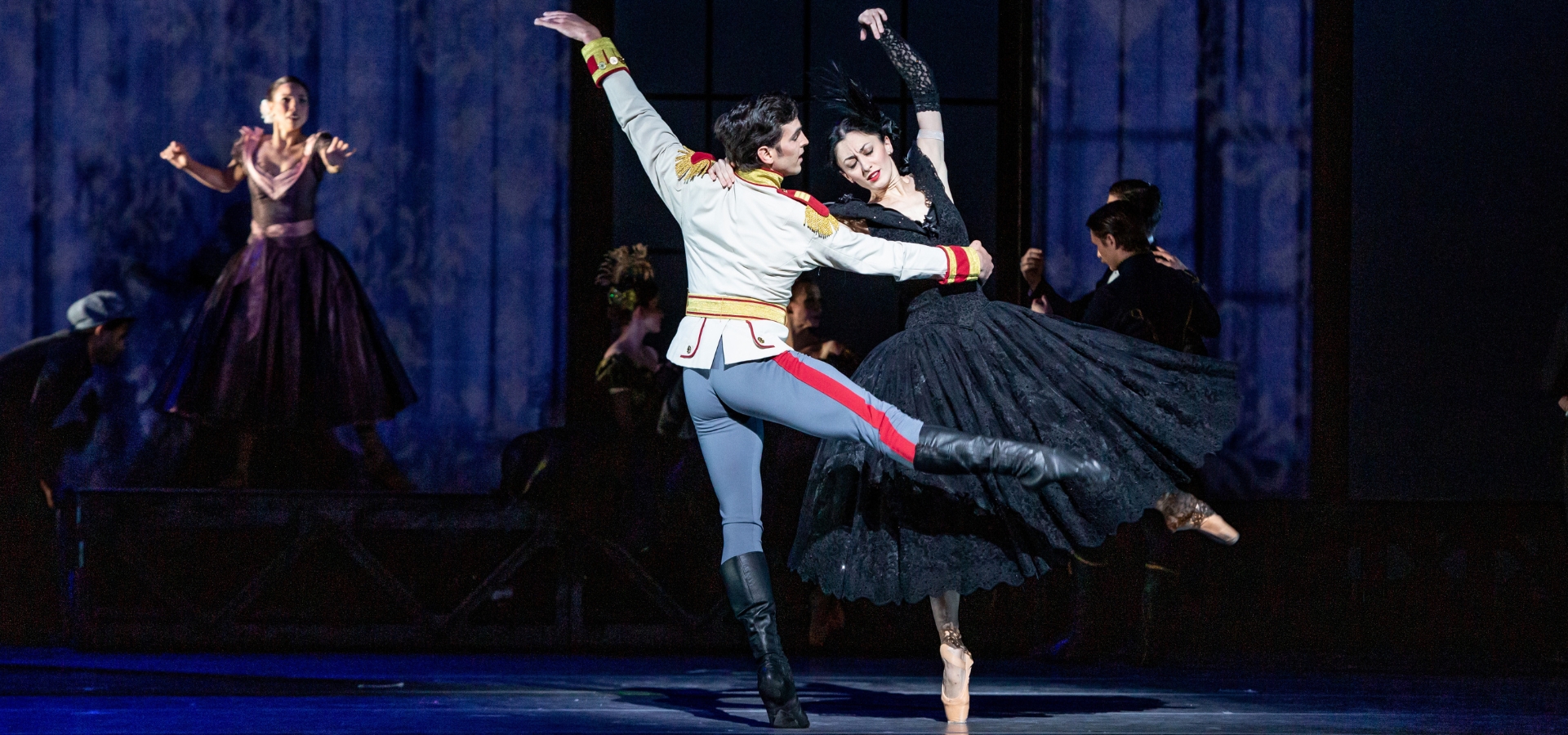 2023–24 Dance Season
WATCH: Executive and Artistic Director Jeremy Geffen and renowned dance company directors guide us through an exhilarating season of dance.
April 18, 2023
Exciting premieres, strengthened partnerships, anticipated company debuts.
Cal Performances is known for the breadth of our dance seasons. In 2023–24, we're proud to present seven world-renowned companies, each with something different and profound to offer our Bay Area audiences. In this video, Cal Performances executive and artistic director Jeremy Geffen walks through all the performances on our season, including return visits by Cal Performances favorites The Joffrey Ballet, which embarks on a new Berkeley residency that includes its first narrative ballets with Cal Performances; Mark Morris Dance Group, bringing its 14th Mark Morris world premiere in Cal Performances' history; Alvin Ailey American Dance Theater, which will be celebrated by the Cal Performances 2024 gala; and Les Ballets Trockadero de Monte Carlo. The season also features company debuts—and Bay Area premieres—by Batsheva Dance Company and Urban Bush Women; plus a double-bill production of Germaine Acogny and Malou Airaudo's common ground[s] paired with Pina Bausch's The Rite of Spring, performed by dancers from more than a dozen African countries brought together by Bausch Foundation, École des Sables, and Sadler's Wells.
Transcript
Jeremy Geffen: 
Cal Performances is known for the breadth of our dance season. In 2023–24, we're proud to feature seven companies representing the finest the world has to offer in contemporary dance, jazz, ballet, and drag ballet. These performances are enhanced by exciting premieres, strengthened partnerships, and highly anticipated company debuts.
We're elated to welcome The Joffrey Ballet in March for the Bay Area premiere of Yuri Possokhov's Anna Karenina, accompanied by the Berkeley Symphony to kick off the company's renewed Berkeley residency. Cal Performances and The Joffrey Ballet have engaged in a series of fruitful partnerships over the years, the first of which took place in the 1970s. This season, we're embarking on a new partnership that will bring this world-renowned company to Berkeley for four residencies over eight years, providing new perspectives on their extraordinary work. This first year marks a major milestone, as the company's performance of Anna Karenina is the first evening-length story ballet the company will perform for Berkeley audiences.
Ashley Wheater:
I think that this time coming to Berkeley, I think we have the ability to show the audiences there a very different side of The Joffrey, which is the side of storytelling. I think we've always taken a very eclectic repertoire to Berkeley, which is all, in a way, abstract, although there's always a story when you have people on stage. But this is definitely the story of Anna Karenina, so it has a very clear narrative and a through line, and I think that what it does is it showcases the company at every single level of the story. I think it is a feast for the ears, for the eyes. I think that Tom Pye gave us the most beautiful production. So to bring all of that to Berkeley and to have Berkeley, really Cal Performances really make such a commitment to The Joffrey, I applaud them for that, and of course we're incredibly grateful for that.
Jeremy Geffen:
Mark Morris Dance Group made its Cal Performances debut in 1987, and this season marks 30 years of annual visits by this beloved company. Decades into our partnership, they are still bringing fresh works that are both innovative and exhilarating. In April, they'll bring the world premiere of a new work by Mark Morris, marking their 14th world premiere at Cal Performances. Morris is known for developing choreography that demonstrates a deep sensitivity to music and a company that resembles his audience. Mark Morris Dance Group has created joyous and life-altering experiences for Cal Performances audiences, and this season is sure to offer no exception.
Alvin Ailey American Dance Theater first performed in Berkeley in 1968. Their history with us even predates that of our very own home at Zellerbach Hall, which opened later that year. It was love at first sight, and they've been performing with us every year since that visit 55 years ago. With Ailey Week a long-established tradition, the company has performed more often in Berkeley than they have anywhere outside of their home city of New York. We are so proud of the relationship we've built together, which includes not only a deeply rooted performance history, but also Berkeley/Oakland AileyCamp, a free dance and personal development program for middle school students, which celebrated 20 years last season. In all of contemporary dance, there is perhaps no other company so beloved and so respected, and it is an honor to be such an integral part of their journey. While Ailey's program, as is customary, will be revealed later in the season, we can reveal that Ailey's visit will be celebrated as the centerpiece of Cal Performances' 2024 gala, which will benefit our core artistic and educational activities like AileyCamp.
Robert Battle:
I think what's been wonderful about working with Cal Performances, first of all, is the longevity. Since 1968, Cal Performances have been bringing the Alvin Ailey American Dance Theater to Berkeley. I think that says something about that strong relationship and also being there at the university, seeing young students, particularly seeing dancers, always outdoors, rehearsing these routines, and all of that so when we leave the stage door, we also see dancers just doing whatever they do. I think there's something important about having that experience and having it on a campus that has to do with the future.
One of my most special memories from Cal Performances, of course, was when I did my first work after becoming artistic director for the Alvin Ailey American Dance Theater and that work is called Awakening. It also had commissioning funds from Cal Performances, so for that world premiere there at the Zellerbach was thrilling. And, of course, I have to mention our audiences there, which are so enthusiastic about our performances, but they were also enthusiastic about my work, Awakening, which meant so much to me because it had so much to do with my awakening when I first saw the Alvin Ailey American Dance Theater, like those students that we performed for when we were there in Berkeley. What a thrill that was, what a ride!
Jeremy Geffen:
Treasured by Cal Performances audiences for decades, Les Ballets Trockadero de Monte Carlo return to Berkeley in January to celebrate their 50th anniversary. This troupe has set themselves apart with their ingenuity, talent, and charisma since their founding in the 1970s. Their masterful execution of ballet technique combined with drag performance, playful energy, and satire leaves audiences in awe and in stitches. Their program this season will include classic Trocks gems that unlock pure, unbridled joy for everyone in attendance.
While we continue to celebrate those artists with whom we've already developed a strong bond, we are also programming new voices. In early March, we welcome Batsheva Dance Company in their Cal Performances debut. This innovative Tel Aviv-based company is an international titan of modern dance and, quite plainly, one of the most important dance companies in the world today. They're bringing with them the Bay Area premiere of Ohad Naharin's MOMO, an ingenious work that explores extremes of movement through the tension between a wild, energetic group and those who are slow and deliberate, weighed down by hypermasculine dogma.
In February, a collaboration by Pina Bausch Foundation, École des Sables, and Sadler's Wells results in a double-bill program featuring young dancers from across the African continent. This program, which will contribute to our Illuminations: "Individual & Community" theme this season, features two distinct halves. The first, common ground[s], is an emotional and personal reflection by two seasoned dancers who share a duet about their lives as dancers, as mothers, as grandmothers, and as granddaughters. In the second half of the program, Pina Bausch's iconic staging and choreography of The Rite of Spring is brought to life by more than 30 dancers from 14 African countries, offering a new lens through which to consider this distinctive Bausch masterpiece.
Urban Bush Women's Hair & Other Stories, another core Illuminations performance, comes to the intimate Zellerbach Playhouse in early December. This Brooklyn-based performance ensemble is driven by the desire to catalyze social change and reflect provocative experiences and viewpoints. In their Cal Performances debut, the company brings a dance theater work that centers race, identity, and beauty through the lens of Black women's hair.
Mame Diarra Speis:
Hair & Other Stories is a dance theater work that uses hair as a frame to really take a deeper dive into conversations around systemic racism. Also, we're using, inside of that, our Entering, Building, and Exiting Workshop that allows us to examine our values, our assumptions, using that module of entering together, building, and then transitioning, evolving, whatever ways that make sense.
Courtney J. Cook:
And the work also engages with those communities, so it's not just about performing but also about what kind of conversations, what kind of relationships we are building with the folks whose stories are reflected in the work. Hair & Other Stories intentionally bridges both performance and community engagement.
Jeremy Geffen:
Across all of these performances, there are countless opportunities to be moved, enchanted, and awakened. I look forward to welcoming so many talented individuals to Berkeley this season alongside all of you.
Explore More 2023–24 Season Features