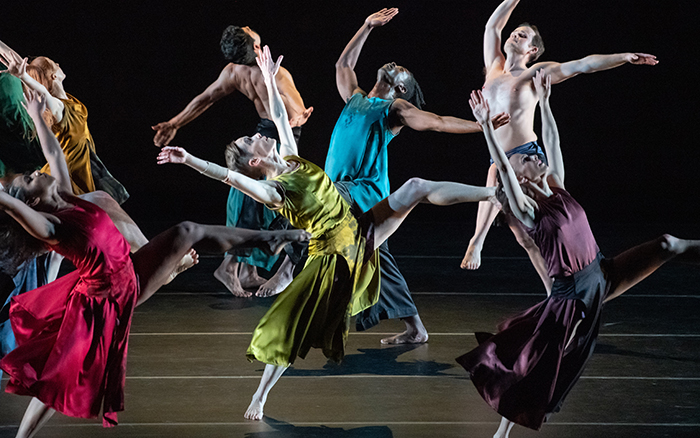 Dance
Mark Morris Dance Group
World Premiere
Socrates (2010; music by Erik Satie)
Via Dolorosa (World Premiere; 2024; music by Nico Muhly and Alice Goodman)
Returning to its West Coast home away from home, the Mark Morris Dance Group visits with a profoundly moving repertory work and the world premiere of a new Mark Morris creation. Praised as a "true and luminous masterpiece" by the New York Times, Socrates—danced to the music of Erik Satie performed live by members of the Mark Morris Dance Group Music Ensemble—is a group dance from 2010 that dramatizes the great philosopher's death through a series of tableaux that range from sensual to restrained, abstract to elegiac. Then, in a true season highlight, the company presents the world premiere of Via Dolorosa, set to Nico Muhly's meditative composition The Street, inspired by the evocative, mysterious, and poetic texts of Alice Goodman and featuring harpist Parker Ramsay performing the score live. In the more than 35 years since the company first appeared on the UC Berkeley campus, the Mark Morris dancers have treated Cal Performances audiences to the first performances of more than a dozen new Morris works, many of which have gone on to become company classics—don't miss this chance to be part of dance history!
This performance is made possible, in part, by Helen and John Meyer (April 19).
Apr 19–21, 2024
Add to Calendar
04/19/2024 08:00 pm
04/19/2024 09:30 pm
America/Los_Angeles
Mark Morris Dance Group 2324
https://calperformances.org/events/2023-24/dance/mark-morris-dance-group-2324/
Zellerbach Hall
Apr 19, 2024, 8pm
Apr 20, 2024, 8pm
Apr 21, 2024, 3pm
Tickets start at $44
Video
Beyond the Stage
WATCH: Executive and Artistic Director Jeremy Geffen and renowned dance company directors guide us through an exhilarating season of dance in this
2023–24 Season Feature
.