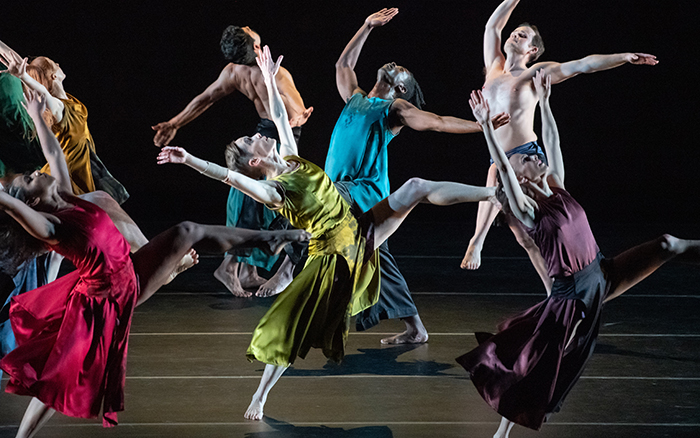 Dance
Mark Morris Dance Group
World Premiere
Returning to its West Coast home away from home, the Mark Morris Dance Group visits with the world premiere of a new Mark Morris creation. In the more than 35 years since the company first appeared on the UC Berkeley campus, Cal Performances audiences have been treated to the first performances of more than a dozen new Morris works, many of which went on to become beloved company classics. Whether playful and exuberant or tender and refined, Morris' productions are always stylish and smart, his profound sensitivity to music on display whether he is choreographing to nostalgic pop songs, cool jazz, Baroque opera, or classical repertoire. More details will be announced in the coming months, but buy your tickets today to guarantee you'll be part of another magical visit by this renowned company!
Patron Sponsors: Helen and John Meyer (4/19)
Apr 19–21, 2024
Add to Calendar
04/19/2024 08:00 pm
04/19/2024 09:30 pm
America/Los_Angeles
Mark Morris Dance Group
https://calperformances.org/events/2023-24/dance/mark-morris-dance-group-2324/
Zellerbach Hall
Tickets start at $44
Beyond the Stage
WATCH: Executive and Artistic Director Jeremy Geffen and renowned dance company directors guide us through an exhilarating season of dance in this
2023–24 Season Feature
.
Apr 19–21, 2024
Add to Calendar
04/19/2024 08:00 pm
04/19/2024 09:30 pm
America/Los_Angeles
Mark Morris Dance Group
https://calperformances.org/events/2023-24/dance/mark-morris-dance-group-2324/
Zellerbach Hall
Tickets start at $44
Single tickets for 2023–24 Season events go on sale at noon as follows:
July 25: 2023–24 Season Subscribers and Donors of $100+
Aug 1: Email Club and UCB Community
Aug 8: General Public