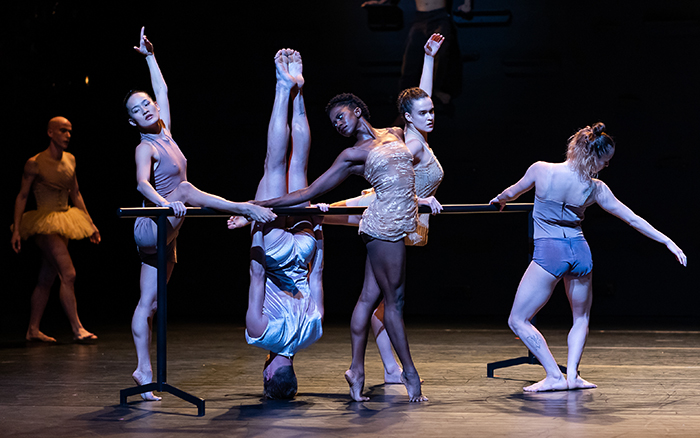 Dance
Batsheva Dance Company
MOMO
Bay Area Premiere
Ohad Naharin, a titan of contemporary dance, brings his powerhouse Tel Aviv–based company to Berkeley for the Bay Area premiere of a daring new work. In the company's words, "MOMO has two souls. One sends long roots to the depths of the earth—a soul that embodies archetypes and myths of hardened, raw masculinity, and the other is in a constant search for an individual and distinct DNA; one moves within its own autonomous and independent force field and the other is a constellation of elements that spin around the same nucleus—alternately drifting away and towards it, making room for necessary tenderness and catharsis." Recordings of Laurie Anderson and Kronos Quartet's Landfall and Philip Glass' Metamorphosis provide the slow simmering musical backdrop, alongside song/prayer by Venezuelan musician Arca.
This performance is made possible, in part, by Nadine Tang.
Support for the presentation of Israeli artists is provided by The Sir Jack Lyons Charitable Trust.
Run time for this performance is approximately 70 minutes with no intermission and no late seating. 
Live Audio Description
For blind and visually impaired audience members, live audio descriptions are available for the Mar 8 performance of Batsheva Dance Company MOMO. For more information or to reserve a headset for this performance, please contact the Ticket Office.
Mar 8–9, 2024
Add to Calendar
03/08/2024 07:00 pm
03/08/2024 08:30 pm
America/Los_Angeles
Batsheva Dance Company
https://calperformances.org/events/2023-24/dance/batsheva-dance-company/
Mar 8, 2024, 7pm
Mar 9, 2024, 7pm
Tickets start at $38
Video
Beyond the Stage
WATCH: Executive and Artistic Director Jeremy Geffen and renowned dance company directors guide us through an exhilarating season of dance in this
2023-24 Season Feature
.
A fascinating deep dive into some of the most anticipated new works on the season in this 2023–24 Season Feature.