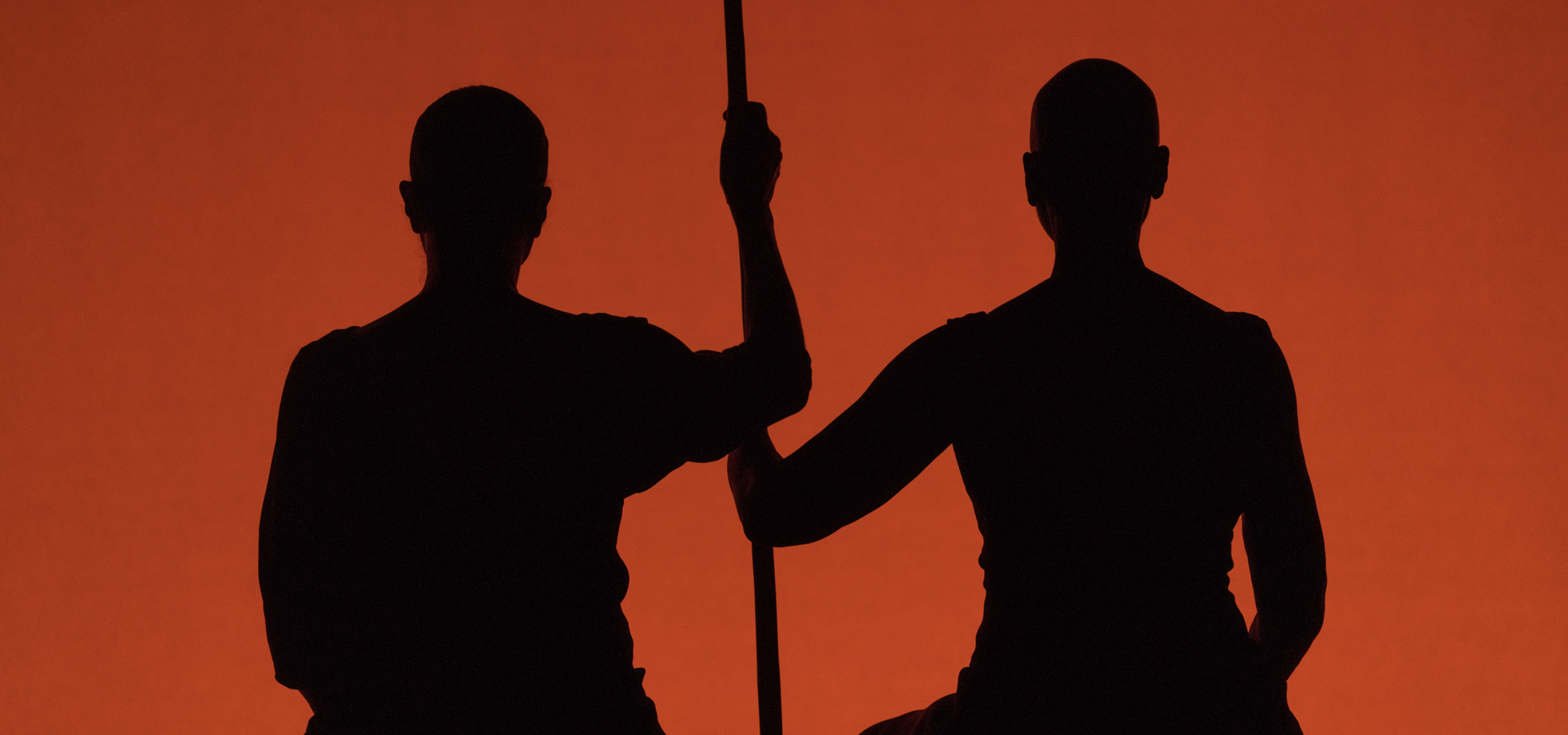 Spotlight on 2023–24 Season Premieres
A fascinating deep dive into some of the most anticipated new works on the season.
April 18, 2023
New works set to inspire on the Bay Area, West Coast, and world stage.
Some of the greatest opportunities for personal transformation—as well as excitement and pure joy—lie in our exposure to new works. Who among us can't recall a time (or a dozen) when our first encounter with a dance, song, or theatrical work left us feeling like we were leaving the auditorium a different version of ourselves than when we had entered only hours before? A favorite venue for many of the world's leading artists—thanks to our audience's reputation for being exceptionally welcoming, adventurous, and thoughtful—Cal Performances has continuously been able to secure key premieres for the Bay Area, California, West Coast, US, and world stage. This coming year of programming is no exception, featuring a host of highly anticipated premieres that include new works by nearly every visiting dance company and six world premieres in multiple genres. In this article, we provide a deeper dive into a few of the key works, and their performers/creators, set to inspire Bay Area audiences in 2023–24.
West Coast premiere of Nathalie Joachim's Ki moun ou ye (Who are you?)
On March 7, Grammy-nominated composer, flutist, and vocalist Nathalie Joachim visits Cal Performances with the West Coast premiere of a new song cycle, Ki moun ou ye (Who are you?).
Created in 2022, Ki moun ou ye is an evening-length (approximately 65 minutes) work written for a chamber ensemble with vocal/flute soloist. The piece grapples with the overlapping ideas of individual, family, and cultural identity, and uses voice as a means of healing and personal discovery.
Ki moun ou ye draws heavily on Joachim's experience and heritage as a Brooklyn-born, Haitian-American woman—a theme previously taken up in her first solo album, Fanm d'Ayiti (Women of Haiti), which was performed as part of the Cal Performances at Home streaming programming during the 2020–21 season. Fanm d'Ayiti was largely inspired by the passing of Joachim's grandmother, which led the artist to excavate and elevate the voices that have shaped her and her ancestral homeland. Of her grandmother, Joachim said, "Her voice meant so much to me…. Our way of communicating with each other was through music, and I didn't know it at the time, but so much of Haiti's cultural practice of music has been an oral tradition. And so, for many years, I really thought, here I was, just singing songs with my grandmother—only later to come around to…understanding that she was really bringing me into a hundreds-of-years-old cultural practice that I now feel deeply connected to."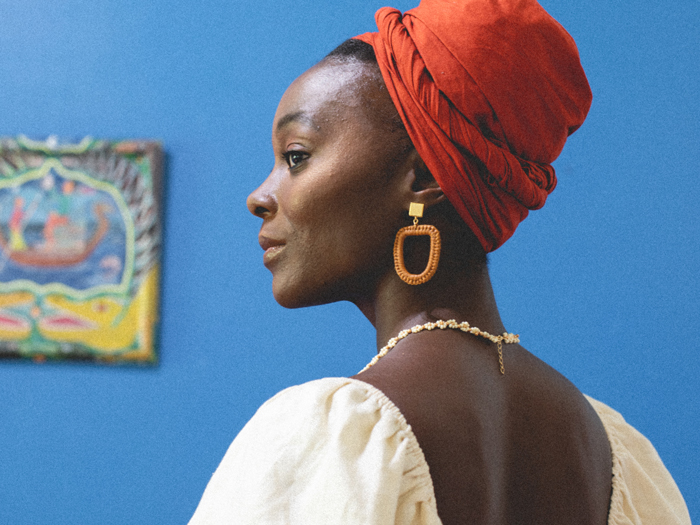 In creating Fanm d'Ayiti, which celebrates underrecognized Haitian female voices, Joachim spent two years in Haiti's countryside, connecting with local women artists and to her parents' hometown of Dantan. In this, her second solo album, Joachim dives deeper into the work of connection—as well as individuation—that she explored in her earlier project. This new song cycle is set on the Caribbean farmland her family called home for generations and uses both music and elements of movement to bring her interior journey to life.
This work is part of Cal Performances' 2023–24 Illuminations: "Individual & Community" programming and marks Joachim's second Illuminations engagement, the first—Note to Self, performed by Sō Percussion—being part of the 2022–23 "Human & Machine" season.
Bay Area premiere of Ohad Naharin's MOMO, performed by Batsheva Dance Company
March 8–9 introduces Cal Performances audiences to a new work and a new company, when the Batsheva Dance Company performs the Bay Area premiere of Ohad Naharin's MOMO.
The Tel-Aviv–based Batsheva Dance Company, one of the leading dance companies in the world, is known for the elite physicality of its 18 principal dancers, a quality purposefully cultivated through rigorous and consistent training. The company bears the strong artistic imprint of Naharin, who returned to Batsheva as Artistic Director in 1990, having spent a brief period as a company member decades earlier. Naharin transitioned from Artistic Director to House Choreographer in 2018 and is still intimately involved in Batsheva's development. His trademark movement language, "Gaga," is practiced daily by all of the dancers, as it is based around "heightening sensation and imagination, becoming aware of form, finding new movement habits, and going beyond familiar limits"—values that align closely with Batsheva's distinct company identity.
Naharin's new evening-length work MOMO, developed with longtime collaborator Ariel Cohen, has been described as seemingly two pieces performed alongside each other: the first is a quartet comprised of all-male dancers whose movements reflect traditional archetypes of "hardened, raw masculinity"; the other involves a rotating cast of seven dancers, both men and women, who embody a greater fluidity and independence that leaves room for moments of tenderness and catharsis.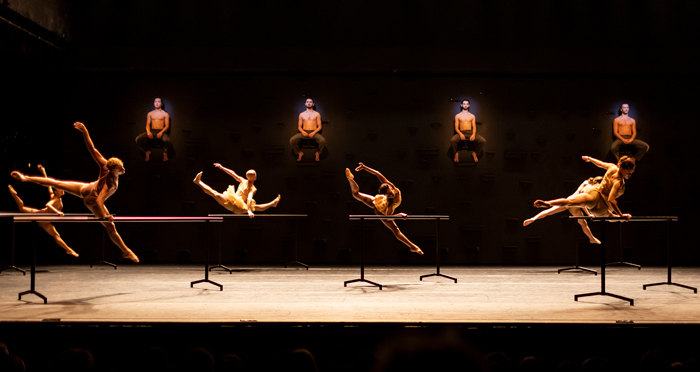 Batsheva Dance Company performs MOMO.
Naharin is trained as a musician and known for his distinct musicality. His sensitivity to music permeates the piece, which is danced to recordings of Laurie Anderson and Kronos Quartet's Landfall and Philip Glass' Metamorphosis alongside song/prayer by the Venezuelan musician Arca. According to the Jerusalem Post, "There is a marked distinction in rhythm between these two groups; the quartet moves slowly and smoothly, anchoring the downbeat of the music, while the larger group works with the accelerated beat."
While the contrasting groups do evoke a strong sense of dissonance and require audiences to resist the impulse to divide focus, Naharin encourages patrons to embrace the resulting sense of disorder: "Chaos is something that does not frighten us in the least. The opposite is true. Chaos is very present in the how and the way of how we work. In dance, we have the ability to use chaos to speak about what we want to speak about."
Naharin is never one to provide a single fixed explanation of a title, instead leaving the significance of his work's names open to interpretation. A work with "two souls," the word "MOMO" is rooted in both the Japanese word "mo," meaning "also," and the linguistic quality of the word's two distinct yet mirroring syllables—as well as the acronym for "magic of missing out."
World premieres of works by Michael Gordon and Peni Candra Rini, performed by Kronos Quartet
On March 2, Kronos Quartet performs two world premieres, composed by Michael Gordon and Peni Candra Rini as part of the KRONOS Five Decade 50th anniversary project.
In 1973, violinist David Harrington was inspired to form Kronos after hearing George Crumb's Black Angels, a pioneering anti-war piece that utilizes "bowed water glasses, spoken-word passages, and electronic effects." Fifty years later, the group—which still includes Harrington as well as longtime members violinist John Sherba and violist Hank Dutt, and recent member, cellist Paul Wiancko—has stayed true to its origins, keeping experimentation and social impact central to its vision and prolific output. Throughout its history, the San Francisco-based group has worked with innovative and genre-defying composers as well as legends of contemporary music, jazz, and rock, its expansive repertoire working to revolutionize the world's understanding of what a modern string quartet can be.
In addition to having influenced the field through the power of its own expert playing and meticulously designed programs, the quartet has shaped the musical landscape of the future by commissioning new works and providing resources for other string quartets. Kronos' landmark Kronos Fifty for the Future project produced 50 new compositions "designed to guide young amateur and early-career professional string quartets in developing and honing the skills required for the performance of 21st-century repertoire," available online, completely free of charge. Over the course of this project (2015–2021), Kronos worked with preeminent composers from around the world, including Cal Performances favorites Angélique Kidjo, Wu Man, Angélica Negrón, and Zakir Hussain—and KRONOS Five Decades composer Peni Candra Rini, whose new work will be featured at Cal Performances this upcoming season.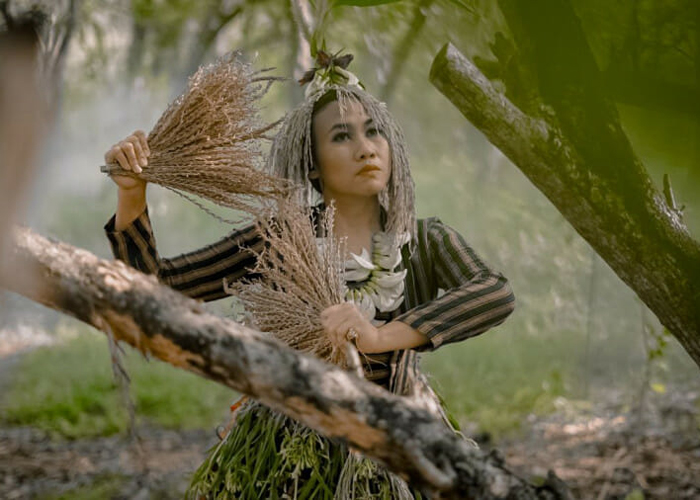 Candra Rini is a Javanese composer, poet, educator, and one of few contemporary vocalists performing sindhen, a female soloist style of singing rooted in Indonesia's rich musical culture. Deeply committed to preserving and celebrating the musical traditions of her homeland, her contribution to Kronos Fifty for the Future was her 2020 composition Maduswara, a work designed to bring attention to sindhen and to encourage this new generation of vocalists to "realize their duty as the conveyor of the universal values of life." She has long admired the quartet (who performed Maduswara for their December 2021 concert at Cal Performances), and shared that their previous collaboration was a "dream." Her newest piece will explore the precarity of the composer's native Indonesia as one of the most volcanically and seismically active regions on earth—a region that is also increasingly vulnerable to climate change. In a nod to cultural preservation, the piece will include shadow puppets, original artwork, and field recordings inspired by various musical environments and cultures across the archipelago.
The other new composition on the program is a work by the innovative Michael Gordon, co-artistic director of New York's legendary music collective Bang on a Can and a longtime friend of the quartet. His past collaborations with Kronos have included Clouded Yellow, a full album Kronos released in 2018 that plays to the group's hallmark "experimentation with electronics, clashing layers, and disorienting rhythmic patterns"; and, most recently, his work Campaign Songs, which consists of arrangements from the canon of American patriotic, political, and folk music aimed at galvanizing voter turnout for the 2020 presidential election. Gordon, who came from Nicaragua to live in the US at age 8, has been composing works since he was a student at Miami Beach High School. Over his 30+ years creating music, he has developed a singular style of experimentation with various sound textures—an affinity he and the members of Kronos have in common. For his KRONOS Five Decades commission, Gordon takes Haydn's scherzos as inspiration to create a modular suite of minute-long pieces, with the aim of bringing humor, fun, and laughter to Kronos' concert.
West Coast premiere of Taylor Mac & Matt Ray's Bark of Millions: A Parade Trance Extravaganza for the Living Library of the Deviant Theme
On February 23–25, Cal Performances presents a true season highlight: Taylor Mac & Matt Ray's Bark of Millions: A Parade Trance Extravaganza for the Living Library of the Deviant Theme.
Performed here in its West Coast premiere, Bark of Millions is a four-hour rock opera meditation on queerness. The production is made up of 54 songs, one for each year since the historic Stonewall uprising that catalyzed the gay rights movement in the US, with each song being dedicated to a queer figure in history.
MacArthur Fellow and Pulitzer Prize finalist Taylor Mac is an international star with Bay Area roots, having been raised in Stockton and even briefly attending San Francisco State University. Mac is known for his expansive productions that celebrate queerness through an activist lens. He has worked on numerous projects with his Bark of Millions co-creator, composer and musical director Matt Ray, including A 24-Decade History of Popular Music, a 24-hour long performance-art concert that debuted in 2016 and went on to receive numerous accolades, including the 2017 Kennedy Prize for Drama Inspired by American History. Mac and Ray have worked together for approximately 15 years, which Ray describes as a partnership rooted in their "shared vision of the world."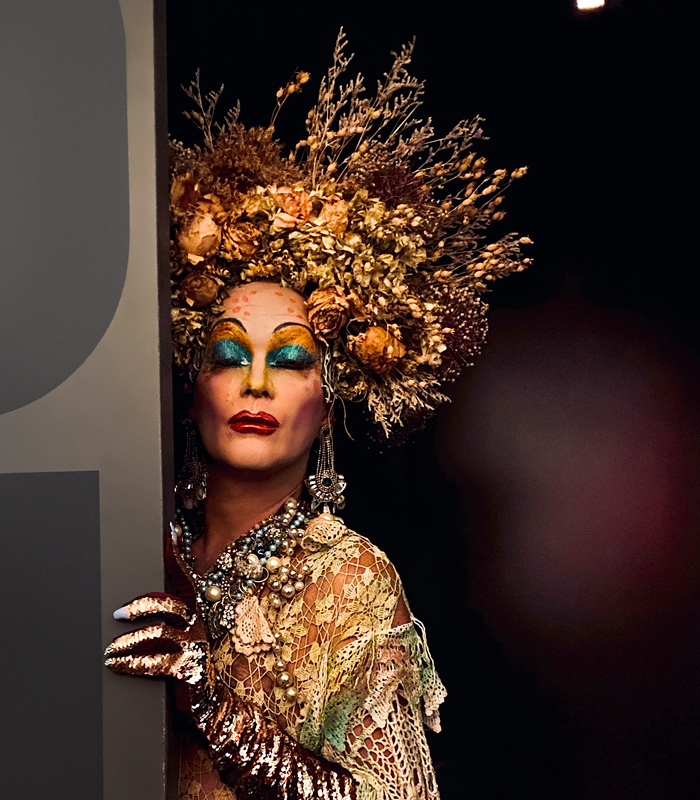 Taylor Mac, Bark of Millions.
Bark of Millions recognizes the value of community not only through the substance of the production, but also through the collaboration involved in bringing the performance to life. In addition to Mac and Ray, the work relies on the artistry of costume designer Machine Dazzle, co-directors Niegel Smith and Faye Driscoll, a cast of 13 ensemble members, and a band of 11 musicians. Speaking about the creation and preparation of the work, Ray said, "As queer performers, we're used to finding our spaces that allow for the genre-pushing that needs to happen for our art to flourish. It's been a really gratifying process to create this work as a community and build ourselves, and build something special."
A maximalist production in every sense, Mac has asserted that part of the activism of Bark of Millions is that it's "taking over the big space," centering queer history and expression to ask such poignant questions as: "What is the core of queerness and the various ways of its dissemination?," "In the broken and often oppressive history we've inherited, how have queer people been our own creation?," and "What are we unfurling from?" Bark of Millions will also shed light on Cal Performances' season-long Illuminations theme, which is designed to explore the tensions that come into play while balancing the interests of the individual with the interest of the group.
Bay Area premiere of Brad Mehldau's Fourteen Reveries
On February 10, internationally acclaimed pianist Brad Mehldau brings the Bay Area premiere of Fourteen Reveries, a solo work for piano composed by the performer and co-commissioned by Cal Performances.
While Mehldau is known principally as a jazz pianist, his influences and prolific output have ventured into rock, pop, electronic music, bebop, blues, and even spiritual music. (Interestingly, though in his early career he strayed from the classical works of his childhood, he reincorporated them into his artistic practice in his 20s as a way to develop his left hand.) In this, his second performance during the 2023–24 season, Mehldau offers an introspective recital that reflects both jazz and classical influences as well as pop music sensibilities.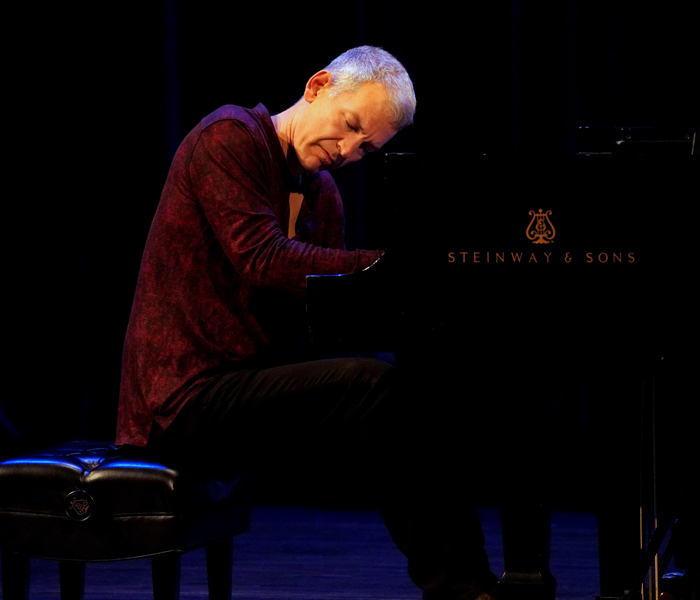 Mehldau has written and performed music extensively since the 1990s. His first major record was released with the Brad Mehldau Trio (The Art of the Trio, 1996), and was comprised of about half original Mehldau compositions. Now roughly 30 years later, his latest major composition, Fourteen Reveries, contemplates "the interior experience that we create from our own consciousness, independently of others." In a recent interview with NPR, Mehldau reflected on how he has used performance to process elements of his personal life, particularly in the context of the challenges and isolation he felt growing up. "I don't like to analyze myself too much. But I think there's something that I can get to, for instance, in playing a ballad, and sort of going in this interior zone that's informed by experiences that I wouldn't have asked for at the time," he said.
His new work also takes up the idea of space between what a composer dictates and what the performer creates—or, perhaps more precisely, what the music organically reveals as it is being performed. This idea of what is written into a work's musical architecture, competing with what is born naturally over the course of a performance, has been a long-time fascination of Mehldau. Though he considers himself foremost an improviser, Mehldau has a deep knowledge of and appreciation for the formal elements of a composition; as both a performer and writer of music, he is conscious of the balance between "the improviser and the formalist" and prioritizes allowing each work and each performance to dictate where those generative moments of spontaneity naturally lie.
Bay Area premiere of Germaine Acogny and Malou Airaudo's common ground[s]
February 16–18 marks the Bay Area premiere of common ground[s], the first half of a double-bill production—created under the auspices of the Pina Bausch Foundation, École des Sables, and London's Sadler's Wells theater—that also features a fresh take on Pina Bausch's choreography to The Rite of Spring. common ground[s] is a new duet choreographed and performed by Germaine Acogny, known as the "mother of African contemporary dance," and Malou Airaudo, a longtime dancer with the Tanztheater Wuppertal Pina Bausch. With both women now in their 70s, the piece contemplates their lived experiences, their relationship to dance, and their identities as mothers, daughters, grandmothers, and granddaughters.
The two artists began their collaboration on common ground[s] at École des Sables in November 2019, drawing on many years of profound dance mastery. For her part, Acogny is known for her success in developing and spreading modern African dance throughout the world. Strongly influenced by her studies of traditional African dances, Occidental dances, and her grandmother's dance traditions as a Yoruba priest, Acogny founded her first studio in 1968 in Dakar. In the years following, she has served as artistic director for renowned institutions across multiple continents, hosted substantial dance workshops, and founded École des Sables (a co-producer of this piece) to serve as a meeting point for dancers throughout Africa to facilitate training in and exchange of various styles of African dance. Her partner in this piece, Airaudo, is a Marseille-born dancer who joined her first professional ballet at only 17 years old. In the 1970s, Airaudo was personally invited by Pina Bausch to join her company in Germany, Tanztheater Wuppertal, where Airaudo served as a foundational member and one of the principal dancers for many Bausch works. Airaudo, like Acogny, has been a longtime dance instructor and served as Director of Folkwang University of the Arts' Institute for Contemporary Dance.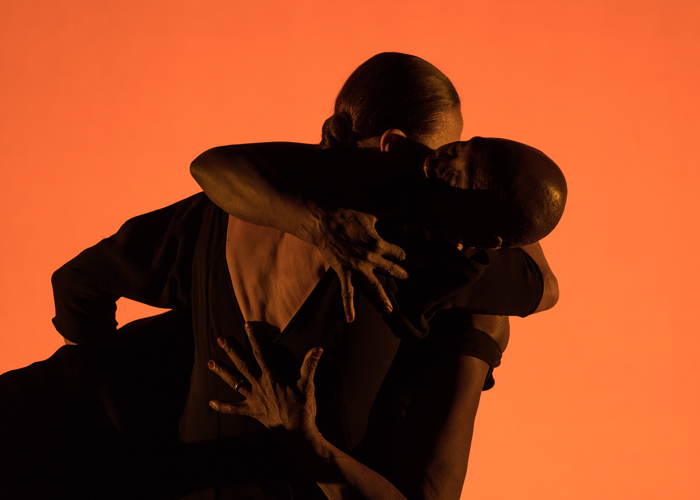 Germaine Acogny and Malou Airaudo, common ground[s].
Building on their rich personal histories, common ground[s] is a work of tenderness and connection in which its performers explore their shared space together and apart in distinct moments. The work reflects the dancers' synergies not only with each other, but also with the natural world. When interviewed about the setting by Dance Magazine, Acogny noted that common ground[s] is danced on hard ground strewn with sticks and stones—as opposed to The Rite of Spring, which is performed on sand—as a means of portraying a distinct groundedness in the first work: "The essence, the energy, the connection to the earth is not the same." The lighting, soundscape, and other set elements also harken back to nature. Acogny expressed that, in working with Airaudo, "We saw that we both liked nature. She likes going to the beach and I like wood, so we bring onto the stage the water, the wood, these elements. The lighting design is a continuation of that, to evoke the sunrise, the sky, the environment."
The joy and weight of cultural exchange is underscored throughout, including by soft moments of dialogue that oscillate between English and French. A review by the Chicago Reader offers a poignant interpretation: "The relationship portrayed does not have the intimacy of those who have known each other long, but those who have moved through time long enough to have commonly experienced the loves and losses of being alive."
Explore More 2023–24 Season Features