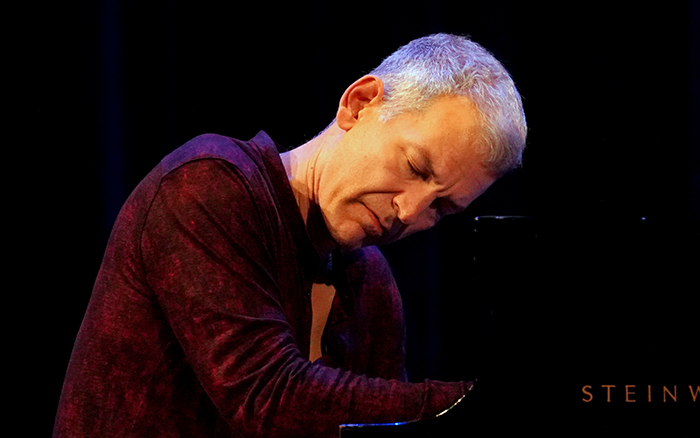 Recital
Brad Mehldau: 14 Reveries
BRAD MEHLDAU
14 Reveries (Bay Area Premiere, Cal Performances Co-commission)
Selections from Suite April 2020
Other works to be announced
One of the most recognizable and unique voices on his instrument today, pianist Brad Mehldau has forged a distinctive path, his music infused with the essence of jazz exploration, classical romanticism, and pop allure. In the Bay Area premiere of his new Cal Performances co-commissioned solo work, 14 Reveries, Mehldau reflects on the interior experience we create from our own consciousness, independently of those around us. Written from a similar impulse as his Suite April 2020, 14 Reveries is a meditation on the space a composer leaves between specific directions in the score, that lets the beauty of the music reveal itself as it allows for new discovery.
Patron Sponsor: Nadine Tang
Feb 10, 2024, 8pm
Add to Calendar
02/10/2024 08:00 pm
02/10/2024 09:30 pm
America/Los_Angeles
Brad Mehldau: 14 Reveries
https://calperformances.org/events/2023-24/recital/brad-mehldau-14-reveries/
Zellerbach Hall
Tickets start at $42
Beyond the Stage
A fascinating deep dive into some of the most anticipated new works on the season in this 2023–24 Season Feature.
Video
Feb 10, 2024, 8pm
Add to Calendar
02/10/2024 08:00 pm
02/10/2024 09:30 pm
America/Los_Angeles
Brad Mehldau: 14 Reveries
https://calperformances.org/events/2023-24/recital/brad-mehldau-14-reveries/
Zellerbach Hall
Tickets start at $42
Single tickets for 2023–24 Season events go on sale at noon as follows:
July 25: 2023–24 Season Subscribers and Donors of $100+
Aug 1: Email Club and UCB Community
Aug 8: General Public