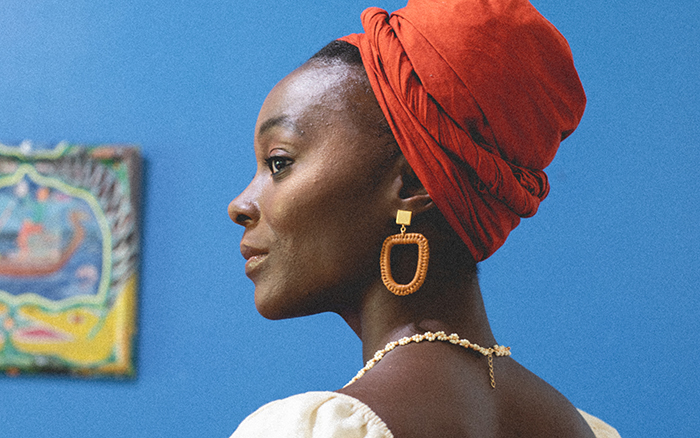 New Music
Nathalie Joachim
Ki moun ou ye (Who are you?)
West Coast Premiere
In her immersive staged song cycle Ki moun ou ye (Who are you?), composer, flutist, and vocalist Nathalie Joachim invokes music, movement, and memory to explore personal history and the healing power of the voice. Performed in both English and Haitian Kreyòl, Ki moun ou ye travels deeper into the Haitian heritage introduced on Joachim's Grammy-nominated Fanm d'Ayiti, and is set on the remote Caribbean farmland where her family has lived for generations. The music weaves together field recordings, electronic drones, vocals, and a seven-member chamber ensemble of winds, strings, and percussion. The evening-length work was developed as part of Joachim's appointment as Creative Associate at Juilliard, and is a collaboration with fellow alum, choreographer Chanel DaSilva.
Join us for a post-performance moderated discussion.
This event is part of Cal Performances' Illuminations: "Individual & Community" programming for the 2023–24 season.
Mar 7, 2024, 7:30pm
Add to Calendar
03/07/2024 07:30 pm
03/07/2024 09:00 pm
America/Los_Angeles
Nathalie Joachim
https://calperformances.org/events/2023-24/illuminations-individual-community/nathalie-joachim/
Zellerbach Playhouse
Tickets start at $48
Beyond the Stage
WATCH: Jeremy Geffen, john a. powell, and Illuminations artists discuss how concepts of individual and community impact society, their work, and their creative practice in this 2023–24 Season Feature.
A fascinating deep dive into some of the most anticipated new works on the season in this 2023–24 Season Feature.