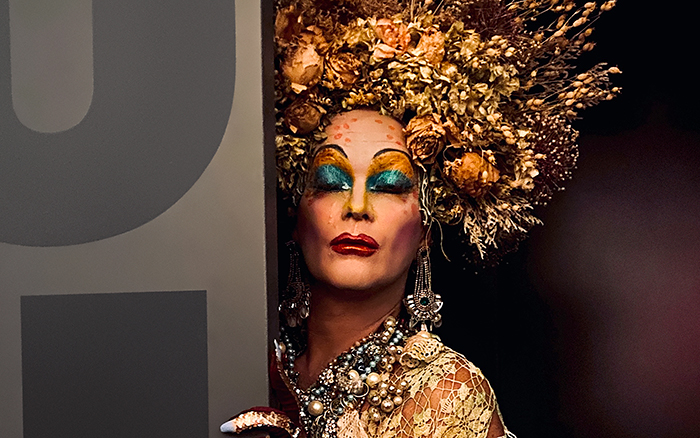 Theater
Taylor Mac & Matt Ray's
Bark of Millions
A Parade Trance Extravaganza for the Living Library of the Deviant Theme
West Coast Premiere
Taylor Mac, writer, co-director
Matt Ray, composer, music director
Niegel Smith, co-director
Faye Driscoll, co-director, choreographer
Christine Jones, scenic designer
Machine Dazzle, costume designer
John Torres, lighting designer
Jimin Brelsford, sound designer
Ensemble: Bernice "Boom Boom" Brooks, Chris Giarmo, Dana Lyn, Danton Boller, El Beh, Gary Wang, Greg Glassman, J Walter Hawkes, Jack Fuller, Joel E. Mateo, Jules Skloot, Le Gâteau Chocolat, Lisa "Paz" Parrott, Machine Dazzle, Mama Alto, Marika Hughes, Matt Ray, Sean Donovan, Steffanie Christi'an, Stephen Quinn, Taylor Mac, Thornetta Davis, Viva DeConcini, Wesley Garlington
Taylor Mac, the MacArthur Fellow, Kennedy Prize winner, and Pulitzer Prize nominee visits with the West Coast premiere of Bark of Millions, an epic four-hour "parade trance extravaganza."  Bark of Millions is a rock opera meditation on queerness featuring 54 original songs (one song per year since the Stonewall uprising) inspired by queer antecedents throughout world history and performed by a diverse cast of 13 ensemble members and a band of 11 musicians. As in his legendary retelling of American history, 24-Decade History of Popular Music, Mac, his cast, and longtime collaborators Matt Ray (music) and Machine Dazzle (costumes), use music, dance and drag spectacle to subvert and deconstruct conventional narratives, and joyfully, transgressively celebrate queerness in all its forms. "Taylor Mac uses his many talents to get us to listen, think and feel. The effect is heartening, vital and liberating" (The London Times).
Note: This performance has a running time of approximately four hours.
This event is part of Cal Performances' Illuminations: "Individual & Community" programming for the 2023–24 season.
Feb 23–25, 2024
Add to Calendar
02/23/2024 07:00 pm
02/23/2024 08:30 pm
America/Los_Angeles
Taylor Mac & Matt Ray's Bark of Millions
https://calperformances.org/events/2023-24/illuminations-individual-community/taylor-mac-and-matt-rays-bark-of-millions/
Zellerbach Hall
Tickets start at $42
Beyond the Stage
WATCH: Jeremy Geffen, john a. powell, and Illuminations artists discuss how concepts of individual and community impact society, their work, and their creative practice in this 2023–24 Season Feature.
A fascinating deep dive into some of the most anticipated new works on the season in this 2023–24 Season Feature.
Video
Feb 23–25, 2024
Add to Calendar
02/23/2024 07:00 pm
02/23/2024 08:30 pm
America/Los_Angeles
Taylor Mac & Matt Ray's Bark of Millions
https://calperformances.org/events/2023-24/illuminations-individual-community/taylor-mac-and-matt-rays-bark-of-millions/
Zellerbach Hall
Tickets start at $42
Single tickets for 2023–24 Season events go on sale at noon as follows:
July 25: 2023–24 Season Subscribers and Donors of $100+
Aug 1: Email Club and UCB Community
Aug 8: General Public