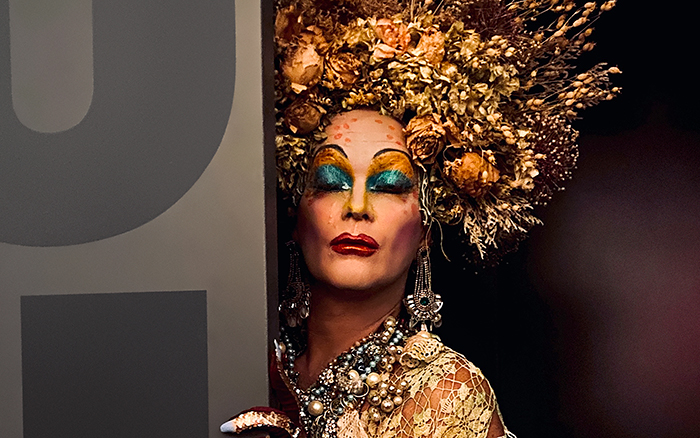 Theater
Taylor Mac & Matt Ray's
Bark of Millions
A Parade Trance Extravaganza for the Living Library of the Deviant Theme
West Coast Premiere
Taylor Mac, writer, co-director
Matt Ray, composer, music director
Niegel Smith, co-director
Faye Driscoll, co-director, choreographer
Machine Dazzle, costume designer
John Torres, lighting designer
Brendan Aanes, sound designer
Oscar Escobedo, props designer
Zach Blumner, co-props designer
With
Ari Folman-Cohen, Bernice "Boom Boom" Brooks, Chris Giarmo, Dana Lyn, El Beh, Greg Glassman, Jack Fuller, Joel E. Mateo, Jules Skloot, Le Gateau Chocolat, Lisa "Paz" Parrott, Machine Dazzle, Mama Alto, Marika Hughes, Matt Ray, Sean Donovan, Steffanie Christi'an, Stephen Quinn, Taylor Mac, Thornetta Davis, Viva DeConcini, Wes Olivier
"If you're not invited to the party, throw a better one."
—Taylor Mac
Taylor Mac (a MacArthur Fellow, Kennedy Prize winner, and Pulitzer Prize finalist) and Obie award-winning composer Matt Ray visit with the West Coast premiere of Bark of Millions.
Part rock opera, part reimagined pride parade, this epic production will stage 55 original songs—one to mark each year since the landmark Stonewall uprising. It's both a celebration and a gift to the queer canon, expanding the archive for generations to come.
Co-directed by visionaries Niegel Smith and Faye Driscoll and showcasing the extravagance of Machine Dazzle's costume design, Bark of Millions will be brought to life at Zellerbach Hall by an international ensemble of 22 artists.
Bark of Millions is a transformative experience that celebrates the power of individuality and human connection. This once-in-a-lifetime event promises to shatter conventions, push boundaries, and bring a bold new perspective to our stage.
As in his legendary retelling of American history A 24-Decade History of Popular Music, Mac and his artistic community use music, dance, and drag spectacle to subvert and deconstruct conventional narratives and joyfully, transgressively celebrate queerness in all its forms.
Note: This party-length performance has a running time of approximately four hours. While there is no traditional interval, there will be no lockouts. Patrons are welcome to take breaks as needed, including to access the bathrooms or bars, and will be admitted back to their seat at a suitable break in the performance. 
Praise for Taylor Mac's 24-Decade History of Popular Music
★★★★★
"Incredible. Nothing could prepare you for the brilliance…"
Sydney Morning Herald
"One of the great experiences of my life."
The New York Times
★★★★★
"Explosive, spectacular, heartbreaking 'dandy revenge'…"
The Guardian
Join us for a post-performance moderated discussion on Fri, Feb 23, and post-performance community conversations on Sat & Sun, Feb 24 & 25.
This event is part of Cal Performances' Illuminations: "Individual & Community" programming for the 2023–24 season.
Feb 23–25, 2024
Add to Calendar
02/23/2024 07:00 pm
02/23/2024 08:30 pm
America/Los_Angeles
Taylor Mac & Matt Ray's Bark of Millions
https://calperformances.org/events/2023-24/illuminations-individual-community/taylor-mac-and-matt-rays-bark-of-millions/
Zellerbach Hall
Feb 23, 2024, 7pm
Feb 24, 2024, 7pm
Feb 25, 2024, 3pm
Tickets start at $42
Beyond the Stage
WATCH: Jeremy Geffen, john a. powell, and Illuminations artists discuss how concepts of individual and community impact society, their work, and their creative practice in this 2023–24 Season Feature.
A fascinating deep dive into some of the most anticipated new works on the season in this 2023–24 Season Feature.
Video