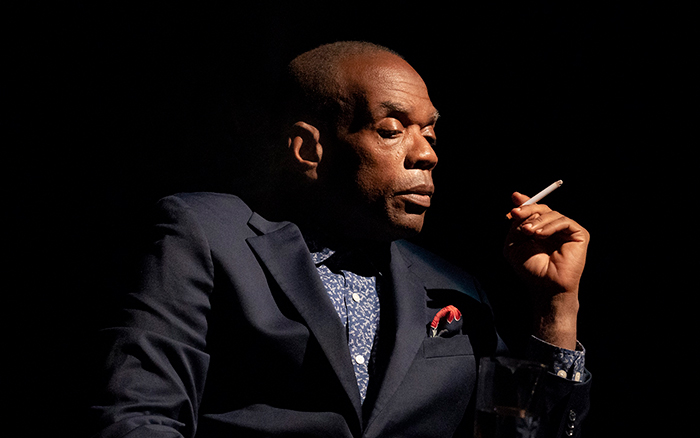 Theater
Baldwin and Buckley at Cambridge
Elevator Repair Service
Bay Area Premiere
Conceived by Greig Sargeant with Elevator Repair Service
Directed by John Collins
Greig Sargeant (James Baldwin)
Scott Shepherd (William F. Buckley, Jr.)
Daphne Gaines (Lorraine Hansberry)
Gavin Price (Mr. Heycock)
Christopher-Rashee Stevenson (Mr. Burford)
At the height of the Civil Rights Movement in 1965, the progressive queer Black writer and activist James Baldwin met the "Father of American Conservatism" William F. Buckley, Jr., onstage at the Cambridge University Union to debate the resolution "The American Dream is at the Expense of the American Negro." This confrontation is dramatized in a lean and elegant new production by Elevator Repair Service, a New York troupe that specializes in adaptations of literary and historic texts. Greig Sargeant portrays Baldwin as a verbal virtuoso, his vocal cadence soaring from operatic to hypnotic, infuriated to heartbroken. Buckley, played by Scott Shepherd, bristles at Baldwin's discussion of white supremacy, his reactionary stance providing a chilling counterpoint to the poet's impassioned assertions. "Sargeant…is magnetic throughout. You cannot look away from him; you sense he is giving the performance of his life" (The New Yorker).
Join us for a post-performance moderated discussion on Fri, Mar 1, and post-performance community conversations on Sat evening Mar 2 & Sun afternoon, Mar 3.
This event is part of Cal Performances' Illuminations: "Individual & Community" programming for the 2023–24 season.
Leadership support for LGBTQ+ programming at Cal Performances is provided by Michael P. N. A. Hormel.
Mar 1–3, 2024
Add to Calendar
03/01/2024 08:00 pm
03/01/2024 09:30 pm
America/Los_Angeles
Baldwin and Buckley at Cambridge; Elevator Repair Service
https://calperformances.org/events/2023-24/illuminations-individual-community/baldwin-and-buckley-at-cambridge-elevator-repair-service/
Zellerbach Playhouse
Mar 1, 2024, 8pm
Mar 2, 2024, 2pm
Mar 2, 2024, 8pm
Mar 3, 2024, 2pm
Tickets start at $82
Beyond the Stage
WATCH: Jeremy Geffen, john a. powell, and Illuminations artists discuss how concepts of individual and community impact society, their work, and their creative practice in this 2023–24 Season Feature.
Video