Manual Cinema's Frankenstein
Oct 31, 2021
Zellerbach Hall
A Cal Performances Co-commission
Adapted from the novel by Mary Shelley
This performance will last approximately 70 minutes and be performed without an intermission. There will be a post-performance talk with the artists immediately following.
From the Executive and Artistic Director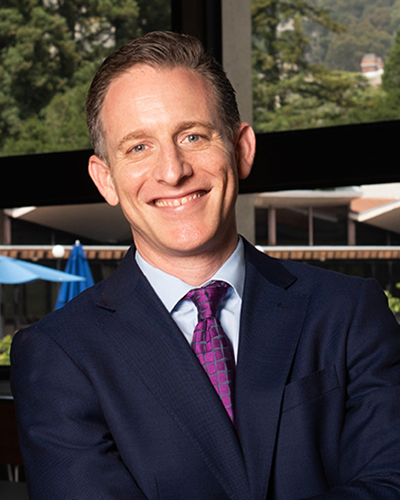 Welcome and Happy Halloween! Words cannot express my pleasure in welcoming you to this afternoon's presentation by the truly astounding Manual Cinema, Chicago's Emmy Award-winning performance collective, in the company's brilliant production of Frankenstein. You may have been among those who enjoyed the special video version of this production that aired as part of last fall's Cal Performances at Home streaming season. That was a terrific and memorable program, but let me assure you, there is nothing that matches the power of watching these astonishing artists as they create and perform their work live, right before your eyes. I couldn't be happier that you could join us for what promises to be a memorable performance; it's wonderful to be together again, watching great theater under the same roof!When the pandemic forced Cal Performances to close its doors in March 2020, no one could have imagined what lay ahead. Since then, we've witnessed a worldwide health crisis unlike any experienced during our lifetimes, an extended period of political turmoil, recurring incidents of civil unrest and racially motivated violence, and a consciousness-raising human rights movement that has forever—and significantly—changed how each of us views social justice in our time.
Of course, the pandemic remains with us to this date and future challenges—including many adjustments to "normal' procedures and policies—can certainly be expected. I encourage you to check Cal Per­formances' website regularly for the most current information regarding our COVID-19 response. First and foremost, I assure you that there is nothing more important to us than the health and safety of our audience, artists, and staff. (And I remind one and all that proof of vaccination is mandatory today, as is protective masking throughout the event.)
Our season continues this month with New York's pioneering Ballet Hispánico (Nov 6) making its UC Berkeley debut, performing a vibrant 50th-anniversary program by an intergenerational cadre of choreographers who have been part of the company's rich history, and our full calendar offers more of the same, packed with the kind of adventurous and ambitious programming you've come to expect from Cal Performances. In particular, I want to direct your attention to this year's Illuminations: "Place and Displacement" programming, through which we'll explore both loss and renewal, disempowerment and hope, while seeking paths forward for reclaiming and celebrating vital cultural connections that can fall victim to political and social upheaval.
Please take the opportunity to explore the complete schedule through our website and season brochure and begin planning your performance calendar; now is the perfect time to guarantee that you have the best seats for all the events you plan to attend.
Throughout history, the performing arts have survived incredible challenges: periods of war, economic collapse, and, yes, terrible disease. And if it will take time for us—collectively and individually—to process the events of the past 18 months, I'm certain that the arts have the power to play a critical role as we come to terms with what we have experienced and move together toward recovery.
I know you join us in looking forward to what lies ahead, to coming together once again to encounter the life-changing experiences that only the live performing arts deliver. We can't wait to share it all with you during the coming year.
Cal Performances is back. Welcome home!
Jeremy Geffen
Executive and Artistic Director, Cal Performances
About the Performance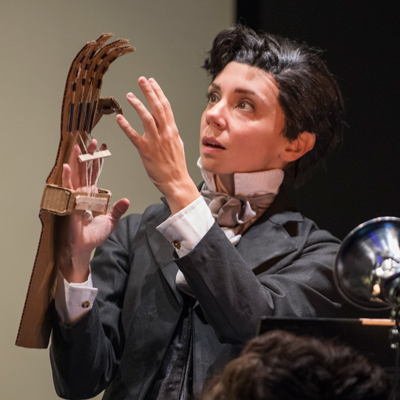 Mary Shelley's 1818 novel Franken­stein—which, among its myriad other contributions to popular culture, single-handedly founded the modern genre of science fiction—casts a long shadow over the medium of cinema. The story of Victor Frank­en­stein and the unnamed Creature he brings to life has itself been perennially re-animated for movie audiences; from the first 1910 silent film adaptation produced by Thomas Edison's studio, to Boris Karloff's iconic visage in the 1933 Universal Studios classic, to more recent Holly­wood reboots, riffs, and parodies. With each new era, Frankenstein manages to connect with our sympathy and revulsion at Franken­stein's "monster," our ambivalence about the progress of science and technology, and our anxieties about the mysterious threshold between life and death.
Last fall and due to COVID-19, Cal Per­formances at Home presented a special video version of the Manual Cinema production that you will see today in the company's first live performance since the pandemic began in March 2020. Through its productions, this award-winning and highly praised company seeks to create cinema on stage through an ingenious choreography of live music, object theater, and shadow puppetry using old-school overhead projectors. The work of Manual Cinema shares a special affinity with Mary Shelley's story about the reanimation of obsolete materials, and their adaptation aims to capture the breadth of Frankenstein's legacy in film: the novel's cinematic afterlife, so to speak. The artists are doing so by taking a cue from Mary Shelley herself, who gave her novel a "gothic" structure—the story is told in a series of narrative frames, like Russian nesting dolls, with each frame narrated by a different character (the centermost frame being an account by the Creature itself). In Manual Cinema's adaptation, each "frame" of the story will be told through a different cinematic genre or style, depending on which character's point-of-view is being presented. Like the Creature itself, the production becomes a pastiche of different visual idioms scavenged from a century of cinema.
Manual Cinema has also created an additional frame: the story of Mary Shelley herself, and how she came to write a novel of such enduring relevance. Frankenstein was originally conceived by Mary as a ghost story—a response to a friendly competition with the poets Percy Shelley and Lord Byron during an unusually stormy summer on Lake Geneva.
Manual Cinema's adaptation aims to re-animate its own Frankenstein against the backdrop of Mary Shelley's fascinating, tragic, and little-told biography.
—Drew Dir
lead deviser and co-artistic director
About Cal Performances