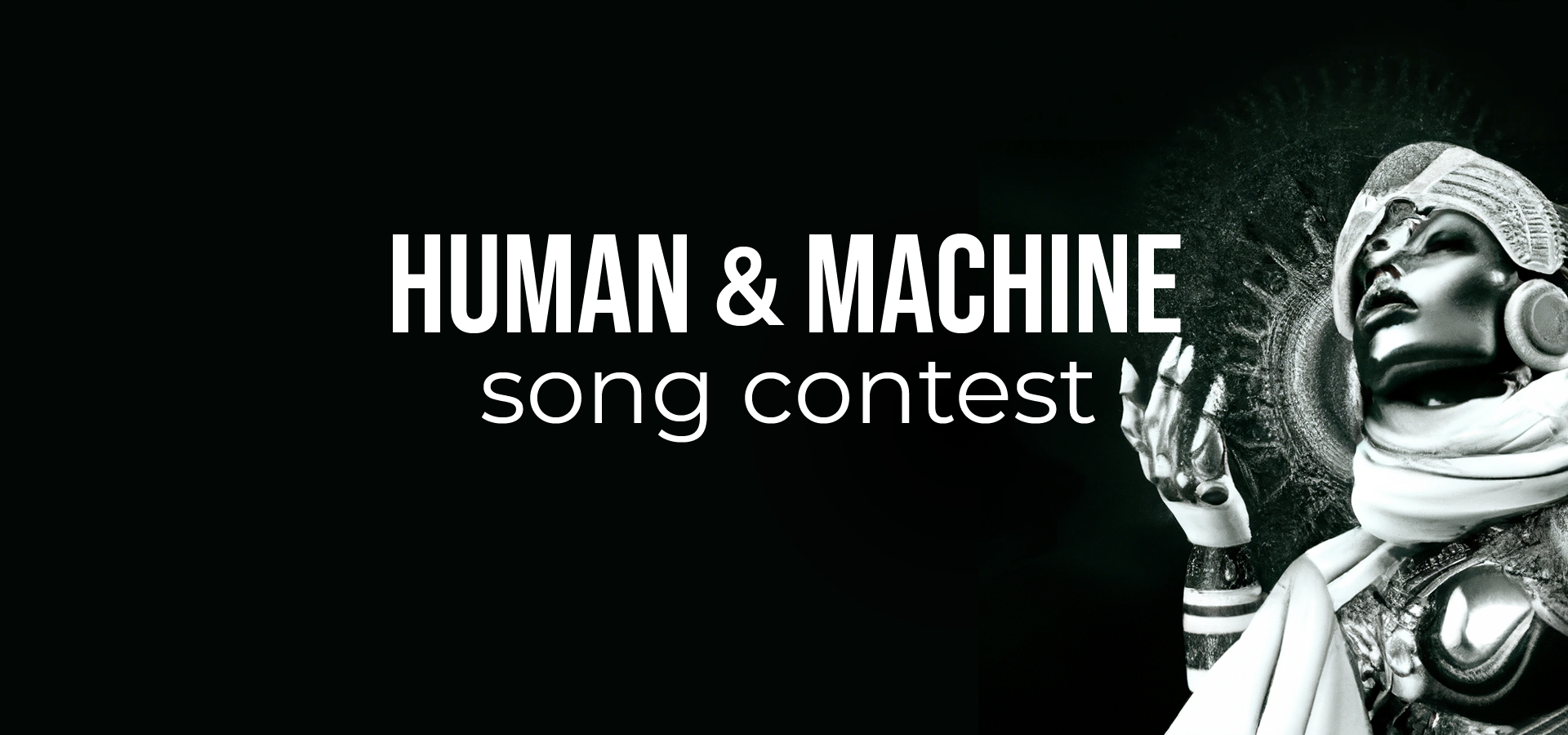 Human & Machine Song Contest Winners
Six entrants are honored for music they created with the aid of AI and other technologies.
April 28, 2023
Exploring the Boundaries of Humanity's Creative Collaboration with Technology
By Krista Thomas, Cal Performances' Associate Director of Communications
On Saturday, April 22, Cal Performances announced the winners of its spring 2023 Human & Machine Song Contest. Designed to explore the boundaries of humanity's creative collaboration with technology (as part of Cal Performances' 2022–23 Illuminations "Human & Machine" programing), the contest invited individuals to submit their own songs or compositions that involved AI or other technologies in the creation process. The 20 submissions underwent a public vote as well as feedback from an esteemed panel of judges, which resulted in five distinct awards.
Below are the winners of the song contest and their submissions.
Most Popular Song: "She could be everything" by Pascale&Lingye
Of the 215 public votes on the song contest, more than 20% went to "She could be everything," winning it the title "Most Popular Song." Judge Mark Simos praised the piece as particularly "intuitive," noting that, "When you're writing a song, sometimes you write a single line of lyric and then you kind of sink into this meditation about that line; and when I heard that piece, I felt as if we were being taken inside the mind of a songwriter dwelling on what happens in your interior space as you hear that one line and work with it."
The creators, who self-describe as "music buddies and future band mates," aimed to "explore the concept of time in songwriting and challenge harmonic and rhythmic conventions, then create unique and innovative music that pushes the boundaries of what is traditionally expected in popular music." Using a number of tools, including ChatGPT, the two relied on technologies to create lyrics, then slice and pitch shift various melodies from their own musical samples.
Ultimately, they reported that the process led them to the belief that the true soul of music and creativity lies in humans, but that technology is a valuable tool for generating new ideas and enhancing humans' creative vision.
Listen to "She could be everything"
Best Composition: "The AI's Lament: Technological Apocalypse" by Dzwonczyk/Muntz
"The AI's Lament" was recognized by the panel of judges as having a distinct compositional form and narrative structure, though these were unlike the form of a typical human-generated song. The piece was created by Luke Dzwonczyk, who is currently pursuing an MA/PhD at Berkeley, having previously received BAs in both Music and Computer Science; and composer and multi-instrumentalist Mat Muntz, who is also a student at UC Berkeley, working on a PhD in Music Composition. For their part, the songwriters aimed intentionally to toy with the uncanny valley and based their concept around a "techno-dystopian apocalyptic future." The speech-synthesizer and AI-generated text were used to "create a scene of The Machine speaking to us itself, warning of the consequences of humanity's technological hubris."
This work stood out not only for its composition, but also for its creative instrumentation. Muntz played Croatian bagpipes to feed as data inputs into the AI, which ended up producing a futuristic sound paradoxically rooted in an old musical and ethnic tradition.
Listen to "The AI's Lament: Technological Apocalypse"
Best Lyrics: "Stars of Berkeley" by Ryan Huber
When Huber embarked on this project, he wanted first and foremost to produce a song that would excite Berkeley audiences. Huber believes in the power of human-technology collaboration and wanted to use his music to highlight this method of creation as a "valid new artistic pursuit."
His upbeat pop lyrics, which focus on "the unique personalities that UC Berkeley attracts and nurtures," were praised by the judge Mark Simos as "the most successful collaboration between human and AI I've heard in terms of the lyrics." Full of "quirky unexpected responses, campiness, unabashed cliches, and irony," "Stars of Berkeley" brought a lightheartedness and sense of humor to the competition that truly stood out.
Huber is a UC Berkeley staff member in the department of Theater, Dance, and Performance Studies, and was glad for the opportunity to work with new tools in the creative process. He used AI for each element of the song and spent significant time refining the lyrics AI produced, giving it feedback to make its responses more ironic and entertaining. The accompanying video draws heavily on the idea of students at Berkeley and was a perfect homage to Cal Day, which happened to coincide with the award ceremony.
Best Live Performance: "The Fairy and the Cowbell" by LiveHuman
"The Fairy and the Cowbell" set itself apart in recognizing AI as "part of a lineage of technological innovations"—in the words of group member DJ Quest, "These ain't your grandaddy's records!" LiveHuman originated as a live instrumental/experimental, jazz/hip hop trio in San Francisco. For this project, members DJ Quest, Albert Mathias (percussion), and Andrew Kushin (bass) decided to use the idea of human-technology collaboration to shed light on a longstanding tradition of mixing music, particularly working with vinyls as was popularized during the early rap and hip hop renaissance. The group used DJ software, time-coded vinyl, and other scratching techniques to enhance their own live playing.
On his takeaway, DJ Quest said, "I believe that AI is an amazing tool and I just think that it'll never share the same joy and pleasure we humans share when creating art. However, it can make the process of creating art more enjoyable… AI can emulate AI, but humans inspire humans."
Listen to "The Fairy and the Cowbell"
Grand Prize: "Carbon Copy" by Derrick Chan-Sew
The grand prize winner was selected by the jury as the best overall piece exploring the unique interaction of human and technology. For his creation, the UC Berkeley Master of Information Design student fed AI 24 piano scores by Philip Glass and Steve Reich to use as data sets. Both Glass and Reich, Chan-Sew noted, are "early pioneers who bridged music and technology using tape, AI, and other techniques to enhance their music and songwriting." The composers' distinct and repeating patterns were particularly apt for this project, the jury noted, as they were easier for AI to understand and work with. The end result does indeed mirror work by the two composers, with a noted use of the minimal classical music techniques of pulse, phasing, and addition/subtraction.
The music was accompanied by a music video that incorporated AI-generated graphics. Chan-Sew ultimately chose from 40 videos he worked with AI to produce, with the final result representing a perfect complement to the music, fully integrated to create a singular art piece.
—–
Learn more about process, techniques, and each song contest submission, including honorable mentions "A.I. Songwriting (It's a Whole New World)" by The Mighty Peregrines, "Android Damnation" by Biohazard-P, and "Simple Love" by Sturm&Sturm.
WATCH: "Judgment Day" event,  which includes the award ceremony as well as a panel on AI and copyright and a lecture on music and AI. Livestreamed on April 22 from Wheeler Auditorium.