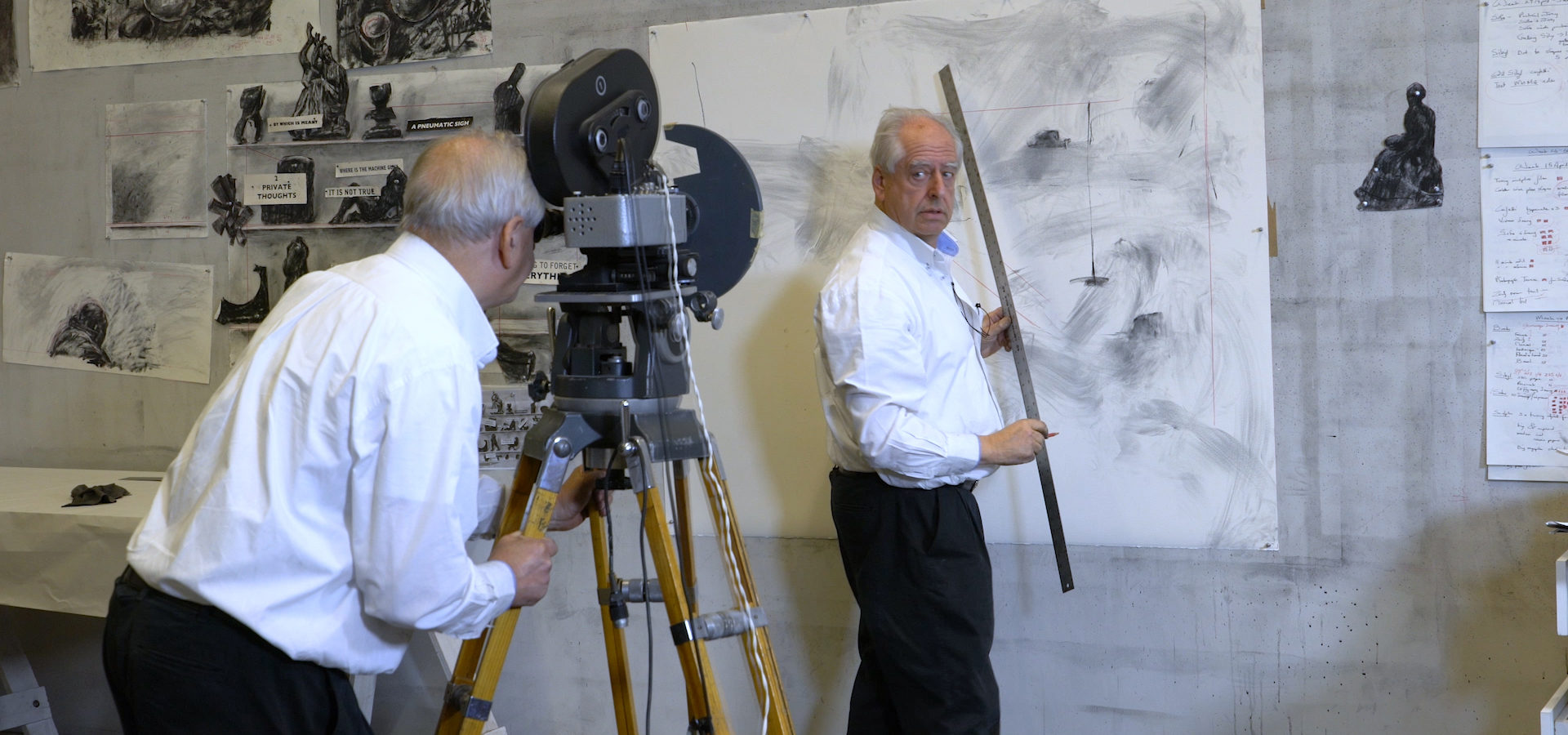 William Kentridge's SIBYL: The Reassurance of Uncertainty
Kentridge's paradoxical, illuminating art at Berkeley.
February 17, 2023
Ambiguity and the algorithm as played out in SIBYL.
By Thomas May, Cal Performances-commissioned writer, critic, educator, and translator.
"There will be no epiphany." "Wait again for better gods." "You will be dreamt by a jackal." "Heaven is talking in a foreign tongue."
The oracular messages that course through SIBYL, the most recent performance work by the towering South African artist William Kentridge, tease with tantalizing ambiguity. They seem to wryly provoke an irresistible urge to twist whatever information is at hand into interpretations best suited to our desires.
That's a primordial human instinct, of course: indeed, the ancient Greek myths involving oracles—an integral part of Kentridge's familiar network of imagery—underscore the irony of playing into the hands of fate at the very moment we're most convinced that our ingenuity has allowed us to elude it. But this behavior has newfound resonance during an era of curated data and populism-stoked skepticism toward voices of authority in science and the humanities alike.
The art of William Kentridge illuminates such fundamental impulses in a way that seems simultaneously timeless and trenchantly of the moment. His campus-wide Berkeley residency, which is taking place throughout the current academic year, is anchored around the US premiere of SIBYL (March 17–19, Zellerbach Hall). Cal Performances is presenting the work as one of the highlights of this season's Illuminations programming on the theme "Human and Machine."
"There are very few artists who excel in so many areas simultaneously," according to Jeremy Geffen, executive and artistic director of Cal Performances. Referring to his protean accomplishments in drawing, printing, sculpture, film, and live music and theater performance, Geffen says that the internationally renowned Kentridge is "the perfect artist for a university"—and, in particular, for a campus-wide residency intended to appeal to students and educators across a wide spectrum of disciplines.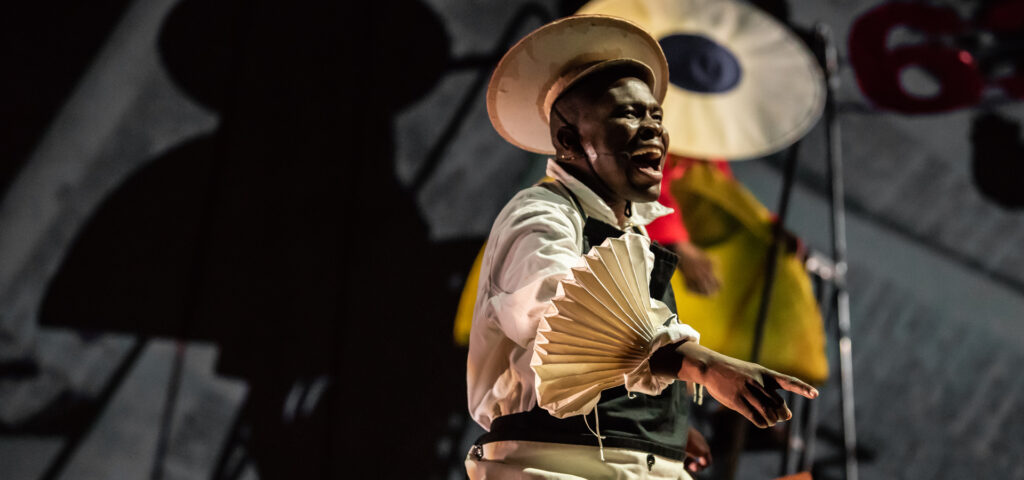 Complementing the March performances of SIBYL, Cal Performances is collaborating with the UC Berkeley Art Museum/Pacific Film Archive (BAMPFA) and the Townsend Center for the Humanities to highlight various facets of Kentridge's wide-ranging work and further enrich campus-wide discussions around the "Human and Machine" theme. Employing the lecture format—another medium Kentridge approaches as a mode of artistic expression—last November, the artist presented To What End, an illustrated talk tracing the development of SIBYL. One week before the SIBYL premiere, on March 10, Kentridge will offer a live performance (joined by surprise guest artists) of the seminal Dadaist "sound poem" Ursonate by Kurt Schwitters. Then, on March 15, soprano Joanna Dudley will perform A Guided Tour of the Exhibition: For Soprano and Handbag, the one-woman absurdist play she developed with Kentridge as a protest against the "museification" of art works. And closing out the residency is a BAMPFA retrospective in March and April of Kentridge's remarkable work as a filmmaker, where his use of animation has been especially innovative. [Related events added since the creation of this article include BAMPFA presenting Out of Africa: Selections from the Kramlich Collection, running March 8 through April 30; an Arts + Design Thursdays presentation of William Kentridge and Judith Butler: Video Art and Social Intervention: Forms of Life, March 16; and the Townsend Center for the Humanities presenting a UC Berkeley faculty and scholar panel entitled Reflections on William Kentridge, April 13.]
SIBYL, the centerpiece of the residency, is uniquely relevant to the "Human and Machine" theme. Whether the topic is data science, artificial intelligence, or the various geological sciences, "predicting the future is a subject of intense research at UC Berkeley," says Greg Niemeyer, Professor of Media Innovation, who describes himself as a "data artist" and is also a member of the design committee for the Illuminations: "Human and Machine" programming.
"Think about the challenges of climate change," Niemeyer continues. "We realize that we have to adapt, but we don't know how. And so we look to science for ideas, but we also need to look to the humanities to figure out how we as humans can cope with the experience of change. And it is exactly this human experience that is at the center of William Kentridge's production. It gives us a chance to reflect on how we as human beings, as individuals, relate to the major changes we're facing."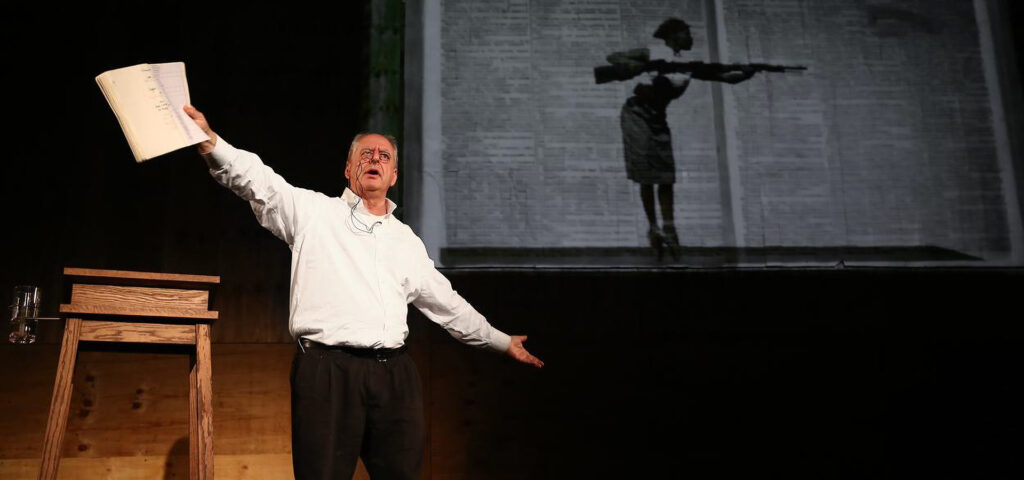 Illuminating Interactions between the Human and the Machine
In September 2019, Geffen attended the world premiere of Waiting for the Sibyl, the culminating second part of SIBYL, at Teatro dell'Opera di Roma. He determined on the spot to bring the project to Berkeley. "It's at once compelling, profound, and funny, and in a sort of Shakespearean way is able to appeal as an entertainment on multiple levels simultaneously."
Geffen moreover sensed a special relevance for Cal Performances' spotlight on the interface between human and machine. SIBYL plays with the idea of the algorithm as the modern, technological counterpart to the ancient oracles and their messages for humanity. Kentridge's work transforms the ancient myth that underlies its fragmentary narrative into "a metaphor for human interaction with technology—its expressive possibilities, but also the risks that come with those potential rewards."
Likewise germane to questions about the interaction between humanity and the machine are Kentridge's formal and technical methods. They privilege "old-fashioned" figurative content and analog processes over abstraction and digital sleight-of-hand. The pattern of drawing followed by erasure followed by further drawing that is a signature of his animated films, for example—including those shown in SIBYL—make the physical labor involved in creating the art visible, emphasizing a "handmade" quality that "carries the human imprint," as Geffen points out. A characteristically Kentridgian paradox is that he uses technology to create these entities while seeming to disguise it—while at the same time encouraging viewers to question that technology.
The result is an overriding sense of ambivalence and uncertainty that not only stimulates critical thinking but fully engages the imagination. There is no predictable formula (the essence of the algorithm), no technological wizard-behind-the-curtain to explain how Kentridge produces his art—along with its unique mixture of intuition, poetic collage, and incisive political critique.
Intimations of the Sibyl
The process behind the creation of SIBYL epitomizes how so many disparate elements converge in Kentridge's artistic practice. His early-career experiences in Apartheid-era Johannesburg, where he was born in 1955, revolved around activities in the theater (as an actor, director, and designer) and the studio (experimenting with multimedia, including drawing and charcoal and pastel prints as well as producing protest posters). This background naturally led Kentridge to incorporate the ultimate interdisciplinary genre—opera—into his prolific oeuvre. Over the past two decades, he has presided over stagings of repertoire such as Mozart's The Magic Flute and the two operas of Alban Berg (Wozzeck and Lulu), as well as rarities like Dmitri Shostakovich's early opera The Nose—in Kentridge's treatment, a mordantly absurdist satire of totalitarianism.
While Kentridge was residing in Rome in 2017 to direct a production of Lulu at the Teatro dell'Opera di Roma, the company commissioned him to create a "companion piece" for its 50th-anniversary revival of Work in Progress, a short but potently modernist theatrical production by the American artist Alexander Calder that premiered in Rome in 1968. It combines balletic cyclists with his signature mobiles, all accompanied by a soundtrack of avant-garde electronic music by a trio of Italian composers.
Kentridge characteristically drew together several interrelated threads as he conceived Waiting for the Sibyl, his contribution to the double bill—much as Calder had done in Work in Progress, a kind of live performance testament to his aesthetic. Calder's rotating mobiles reminded Kentridge of a series of sculptures he had created for Venice's La Fenice to visualize the process of an orchestra tuning before a performance. As the sculptures turn about, the seemingly random pieces suddenly cohere into a recognizable (musical) image—but only for an instant. "So you have a chaos, and then a moment of coherence, and then further chaos," Kentridge explains. That pattern—the transitory alignment of fragments into a moment of clarifying recognition that fades back into the surrounding ambiguity—is a central idea in SIBYL. Something about that moment seems to echo the "Eureka!" phase of the scientific method, which by nature cannot remain fixed knowledge.
For the Bargello National Museum in Florence, meanwhile, he had created a series of films with music by frequent collaborator Philip Miller to create a song cycle. Kentridge's recollection of one of the songs, titled "Waiting for the Sibyl," prompted him to think of the symbolic resonance of this ancient prophetess. The Sibyl has several manifestations as a priestess of Apollo, an oracular voice of knowledge from beyond the mortal realm. The most famous is the Sibyl at Cumae near Naples, the legendary passageway where Aeneas begins his journey to the Underworld to learn what his (and Rome's) fate has in store. The prophetess also makes an appearance at a crucial moment in Dante's Paradiso.
Kentridge's imagination was specifically sparked by the Sibyl's odd modus operandi: she would write her prophecies on oak leaves and leave them to be retrieved at the mouth of her cave at Cumae, where the winds would arbitrarily blow them about. This image of the swirling leaves reminded the artist of the revelatory rotations of Calder's mobiles and of his own Venetian sculptures. The source oak tree in turn linked the myth to the artist's longstanding reference to trees across his oeuvre: the tree and its leaves became an organizing image for Waiting for the Sibyl. Kentridge is fascinated by this process of assembling and recycling originally unrelated fragments and impressions into a new, unexpected coherence and compares the process with the mechanism of dreams as elucidated by Sigmund Freud.
Equipped with these ideas and intuitions, Kentridge embarked on what he calls "the real work" of creating Waiting for the Sibyl—which, significantly, entailed close collaboration in a series of workshops with his fellow artists back in his studio in Johannesburg. Together with a group of musicians, dancers, actors, and video artists, they collectively began an intensive process of improvisation. Much of the time, according to Kentridge, the work in theater is about finding the most effective answer to the question: "How can we bring the excitement that all the participants feel in those first improvisations and rehearsals onto the stage?"
Several years ago in Johannesburg, Kentridge cofounded an initiative he calls the Centre for the Less Good Idea, borrowing the name from a Tswana proverb: "If the good doctor can't cure you, find the less good doctor." He explains that the Centre is based on a political and artistic anti-dogmatism. The sweeping political ideas of the last century proved disastrous, in Kentridge's view, because they derived from people being "certain they know what is best for other people." As a creative corollary, he asserts that the most creatively effective way to work in the studio involves "keeping a doubt and uncertainty about your first idea such that other things can come in and shape and inform it."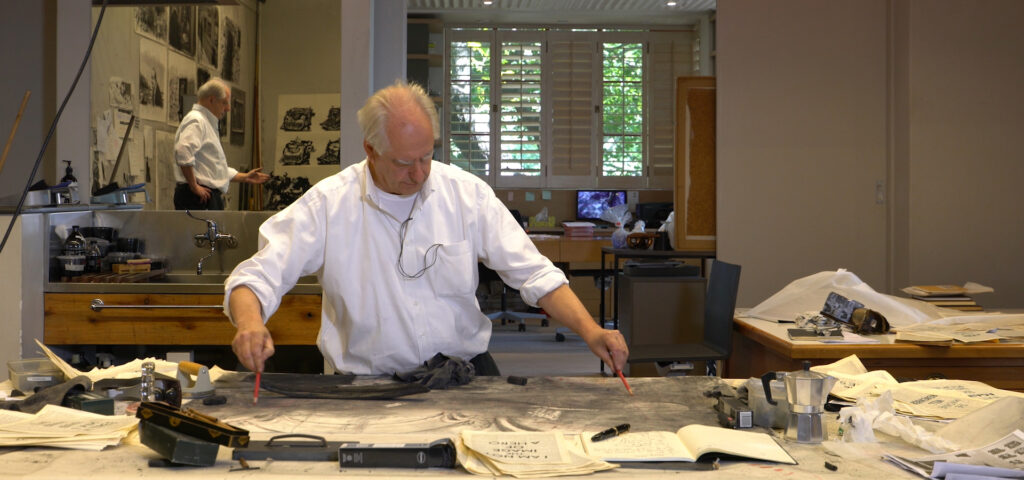 Crafting Music and Libretto
Kentridge's original commission gave him free rein as to theme while stipulating that his stagework should use pre-recorded music in lieu of an orchestra, chorus, and full cast of opera singers. But it became apparent early on that live music was an indispensable element. Several composers came to the first workshop during the improvisational stage of the creative process. Kentridge narrowed them to two, inviting Nhlanhla Mahlangu and Kyle Shepherd to stay on as the project grew.
Mahlangu is a renowned choral composer, singer, dancer, and choreographer who came to know Kentridge through the Centre for the Less Good Idea and collaborated with him on his 2018 "historical pageant" of forgotten African victims of the First World War, The Head & the Load. Also credited as SIBYL's associate director, Mahlangu built a soundscape for the work together with his fellow singers by drawing on South African vocal traditions. Shepherd, a trailblazing jazz pianist, contributes original improvisations that complement and serve as a modern counterpart to the tradition-rooted vocal music. SIBYL has no written score, but the music is closely linked to the specific performers who are part of the cast. "The music is always the same every night," says Mahlangu. "We may feel it differently, but it is set in the body like a ballet." Overall, according to Kentridge, "if the music is working well, it adds a depth to what we see on stage that is, as it were, below the stage surface, below the immediate image."
"I bring the traditional and the visceral and Kyle Shepherd brings the classical and the technical," Mahlangu observes. "He's an amazing jazz player who works a lot with African ritualistic sounds and aesthetics. I work in a very visceral way because I'm a choreographer. So, I make the singers move to discover the sound and work with their somatic memory to trigger certain things which we can respond to in movement. The dancers carry the music with their bodies." Mahlangu adds that he adapted the ancient Greek concept of a prophetess into terms that make sense in a South African cultural context: "SIBYL is about a person who has spiritual power, so for this project, I invited singers who are spiritually gifted as well—people who have some kind of ancestral spiritual gift."
There is no conventionally sung libretto in Waiting for the Sibyl. The text is projected as an integral part of Kentridge's animated film, the words taken from a book of quotes he has been collecting over the years. These are sayings or poetic phrases that have captured his interest for one reason or another, ranging from African proverbs to brief quotes from writers in various languages, which are translated into English. (Only a few derive from English sources.) The sayings are overlaid on pages of old reference books, data sources once prized but outdated in the internet age. Kentridge transforms these texts into implied oracles that structure each of the work's brief scenes. The process, he points out, "is not random, but it's not planned."
Following the Roman premiere of Waiting for the Sibyl, Kentridge discovered that it was not possible to tour with Work in Progress, its pre-existing "prelude," because Calder's sculptures and props were too expensive to insure and could not be copied. So, in its subsequent iterations, Kentridge decided to pair Waiting for the Sibyl with a film he was simultaneously making, City Deep, which has "indirect links to the idea of the Sibyl"—but in an expanded version renamed The Moment Has Gone, accompanied by a live score by Mahlangu and Shepherd. The Moment Has Gone (22 minutes) and Waiting for the Sibyl (44 minutes) together comprise Parts One and Two, respectively, of the work titled SIBYL.
The Moment Has Gone directly addresses the tumultuous transition in South Africa from Apartheid to a democracy still troubled by lingering social injustice. His depiction here of the greedy mine owner and property developer Soho Eckstein is contrasted with the fate of the "zama zama" miners (Zulu for "test your luck") of South Africa's informal economy, who toil in decommissioned mines, illegally and under perilous conditions.
Mahlangu says that the interaction between his response to social problems and that of Kentridge generates "an interesting conversation, with different points of view." For The Moment Has Gone, he draws on elements of the all-male isicathamiya style (made internationally famous by the group Ladysmith Black Mambazo). This, he explains, originated as a quieter, "suppressed" form of singing "to steal a moment of joy when you have been removed from your homeland and put in places where noise is not allowed by white people." Traditionally, isicathamiya is performed a cappella, but he and Shepherd are "breaking the rules and creating a new form" by combining the four male voices with piano.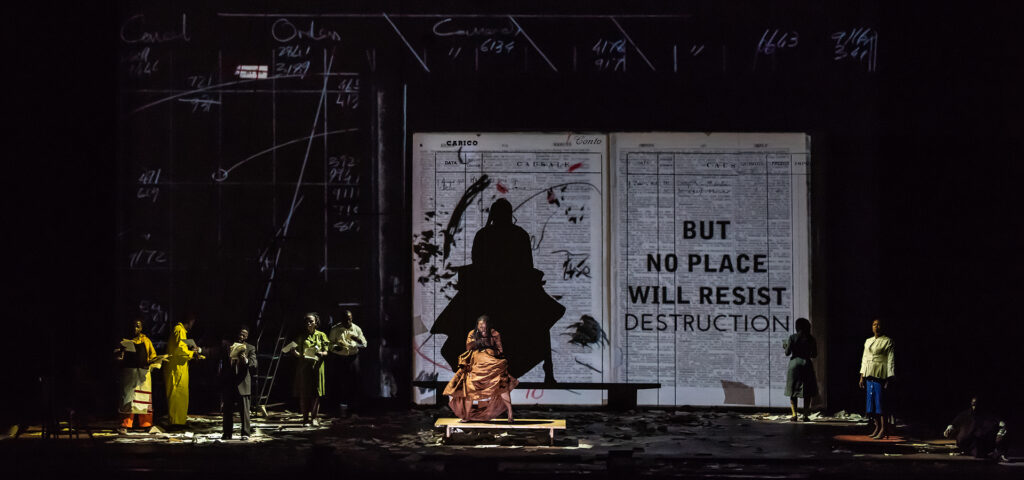 Starving the Algorithm
Kentridge is intrigued by the fact that SIBYL's catalyst, Alexander Calder's Work in Progress, originated in 1968—famously, a year of momentous turmoil in Berkeley but also a year, he says, that emanated "a sense that questions were going to be solved and fixed, that a new world was possible," suggesting "a kind of innocence and optimism that seem impossible 50 years later." He finds that innocence reminiscent of the clarity of emotions recalled from childhood, when the "sense of injustice" burns with an intensity that doesn't seem capable of being revived after we've become jaded.
What seems to attract Kentridge so strongly to the material he explores in SIBYL is myth's paradoxical combination of childhood clarity—its innocent expectation of answers that make sense of the world—with a profound ambivalence. The consolidating image of the leaves in motion that drew him to the myth of the Cumaean Sibyl also conveys an underlying insight about the human condition. According to the myth, supplicants seeking answers to their problems could never be certain whether the oracular "answer" they retrieved was the "correct" one or a prediction intended for someone else.
"The fact that your fate would be known, but you couldn't know it, is the deep theme of our relationship of dread, of expectation, of foreboding towards the future," according to Kentridge.
The algorithm is the contemporary version of a fate we want to control but that ends up controlling us. "The algorithm is of necessity a highly authoritarian way of thinking about the world," observes the artist, "because it takes statistics from a huge number of individuals the way a totalitarian state would and from that makes rules which it enforces with great assiduity against the individual. What the human offers is uncertainty, doubt—even while we all continue to use algorithms in our daily lives, to look at the weather for the day ahead."