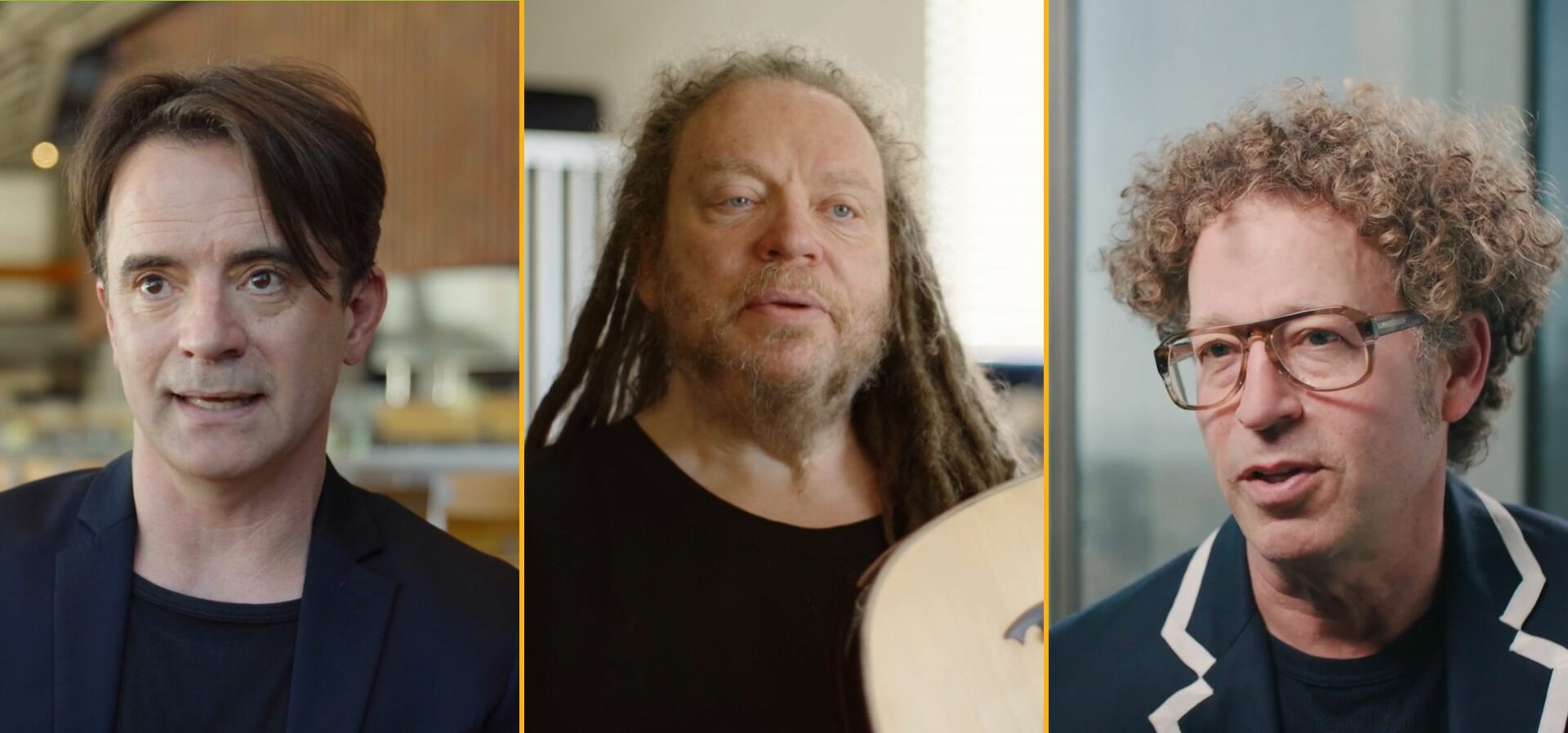 "Human and Machine": Beyond Our Hopes and Fears
Ken Goldberg, Jaron Lanier, and Colm Ó Riain consider what current technological evolution means for our future.
October 21, 2022
Should society fear what's to come?
In this third video expounding on the 2022/23 "Human and Machine" Illuminations theme, subject matter experts discuss our history with technological evolution as well as the potential risks and benefits of technology that increasingly exhibits human-like characteristics.
Transcript
Jaron Lanier:
Scientific progress can only happen from humility. Like, if you can't see your ignorance, you have no hope of being a scientist because obviously you've just absolutely shot yourself in the foot.
Colm Ó Riain:
As we progress, we should consider perhaps expose, make it more transparent the level of agency that we're willing to give to our technology.
Ken Goldberg:
Essentially, he or she achieves the goal, which is to create something autonomous. At that exact moment, that autonomy also creates a dynamic for the creator where there's a loss of control.
Colm Ó Riain:
I think considering technology and machines through a lens of hopes and fears may not be the most useful. But if we go up another level, I think it's useful to consider what we're fearful of and many people are. When the car came in originally, we were a horse-riding society and people were scared. Arguably the internal combustion engine was as opaque to those people, to that society, as machine learning algorithms are art to ours, and then society had to adapt. How do they adapt? They adapted with various coordination technologies and arguably we have to have another technology to respond to that one.
And always we're concerned, are we giving away control or is this something positive? And then what are we fearful of? Are we fearful about the right things, or the right set of things? So, overall, the fear is very useful if we can get above it and not react to it is my, I would claim.
Jaron Lanier:
I mean we have to remember that science is not done and might never be done, that the part of the world that we can describe scientifically is significant and important. We can use it to make technologies, that's wonderful.
If we really understood the world scientifically, there would be no disease. If we really understood the world scientifically, there would be no global warming, you know. Our ignorance is profound as well. And and we have to remain honest about that. And I'm a little puzzled by how difficult it is often for people to accept that, and I think it's just because we have too much ego in science.
Ken Goldberg:
Now, the question you just asked about why do we have machines, why do we want machines, is really ancient. And I mean, when I hear that, I think back to the very earliest machines of using a rock to be able to basically, you know, kill something, to, you know, to hunt. And it's also true for pounding and preparing food for the most part and scraping bark off of things, right, throwing, throwing stones at things. Those are all machines in some form and then you evolve that up through levers and wheels and all these things, and they're all to enhance our reach, our ability to do more and achieve more.
Jaron Lanier:
There's a perennial debate about whether musical instruments or weapons have served more as drivers of basic technologies. The cliche is that it's weapons, but that might be a bit too dark. There are a lot of examples where musical instruments seem to have come first. Bells were cast before the technology was turned to the use of cannons and then guns. Silicon Valley was founded by the company Hewlett Packard, and its first product was actually a music synthesizer for Walt Disney's Fantasia. So Silicon Valley actually started as an instrument town.
Colm Ó Riain:
So one question I hear a lot is 'Can machines be creative?' And it brings us to, 'What is human?' 'What is the human machine interface?' 'Where is that border?' The institute with which I worked, the Machine Intelligence Research Institute, has for many many years talked about the need for human-aligned AI and exploring what alignment looks like. How do we produce a smarter-than-human AI that has a positive benefit on humanity and the world?
Ken Goldberg:
The interesting promise of artificial intelligence and robotics is that those are the most lifelike of our machines. Those are machines—rather than just a wheel or a lever, this is something that actually starts to take on humanlike characteristics, it behaves like we do, thinks like we do. And those, that ability is both very compelling—for the same reason, wouldn't it be wonderful to have something that could think and solve these problems that we face? But at the same time, the consequences can be enormous if those things got out of hand.
Colm Ó Riain:
If we have this, if we can successfully insert creativity into the algorithm or into our technology or into our hybrid, I think it would have to have a significant amount of hope programmed in. What does that look like?I think it would be have to be massively open to diversity, to ideas to come from all corners.
One of the problems with our current machine learning algorithm is that it doubles down on ideas that work initially, so all the other ideas get pruned away. That's not a great scenario for creative solutions to problems down the line that we haven't imagined. So one of the ways that we could be more creative is to bring that along with us, bring all the other ideas, don't prune them away, bring on the different voices, the different ideas with us as we go forward into humanity. And my feeling is that using the arts, integrating arts into the center is vital to that.
Jaron Lanier:
I still, I still feel a sense of hope. I don't think it's fully rational to succumb to cynicism despite everything. I actually think that there are a lot—most people, not all but most people, are reasonably sane, reasonably well-intentioned, reasonably competent, and just caught up in crap that's overcomeable.I think most of us are like that. None of us are perfect, but I think most of us have hope. It's hard to remember that when you look at some of the events in the world. But I still feel that, in balance, one can be hopeful, and so if one can be hopeful, then one should be. And then, you know, you just try to do your best and I think it makes sense. I'm not ready to hang it up yet.