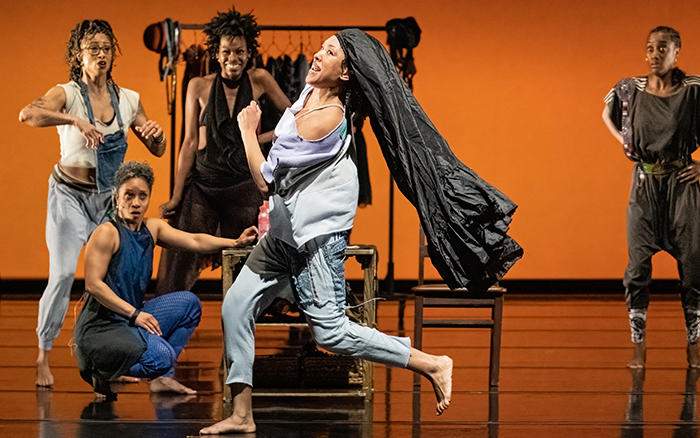 Dance
Urban Bush Women
Hair & Other Stories
Bay Area Premiere
The formidable Brooklyn-based performance ensemble Urban Bush Women visits with Hair & Other Stories, a full-length dance-theater work exploring race, identity, and concepts of beauty through the lens of Black women's hair. Inspired by founder and 2021 MacArthur Fellow Jawole Willa Jo Zollar's HairStories (2001), the participatory performance is a work of activism, awakening, and engagement, asking the audience to move, to comment, to reflect, and to bear witness. Choreographed and directed by co-artistic directors Chanon Judson and Mame Diarra Speis, Hair & Other Stories was developed from personal narratives gathered from participants at "Hair Party" sessions the company held with women across the country, as well as through the company's ongoing collaboration with the People's Institute for Survival and Beyond's "Undoing Racism" workshops. "The Urban Bush Women are committed, triple-threat performers who dance, sing, and act with a sometimes searing sense of truthfulness" (The New York Times).
Run time for this performance is approximately 2 hours 30 minutes including intermission. 
Join us for a post-performance moderated discussion on Fri, Dec 1, and post-performance community conversations on Sat & Sun, Dec 2 & 3.
This event is part of Cal Performances' Illuminations: "Individual & Community" programming for the 2023–24 season.
Parking Alert
Parking will be a problem on campus for this performance on December 2 due to a Cal Men's Basketball game versus Santa Clara.
Most, if not all, University parking lots will be reserved for game patrons and city-owned lots may have a limited number of spots available. Traffic will be heavy. We advise you to arrive early and to seriously consider alternative transportation.
Please see our Parking Alert section for more information.
Dec 1–3, 2023
Add to Calendar
12/01/2023 08:00 pm
12/01/2023 09:30 pm
America/Los_Angeles
Urban Bush Women
https://calperformances.org/events/2023-24/dance/urban-bush-women/
Zellerbach Playhouse
Dec 1, 2023 , 8pm
Dec 2, 2023 , 8pm
Dec 3, 2023 , 3pm
Tickets start at $72
Beyond the Stage
WATCH: Jeremy Geffen, john a. powell, and
Illuminations
artists discuss how concepts of individual and community impact society, their work, and their creative practice in this
2023–24 Season Feature
.
WATCH: Executive and Artistic Director Jeremy Geffen and renowned dance company directors guide us through an exhilarating season of dance in this
2023–24 Season Feature
.
Video