2021/22 Season

"Place and Displacement"
The 2021/22 season's Illuminations programming explores issues of "Place and Displacement" through five performances and related online and in-person programs with artists, creators, scholars, activists, and thinkers who are part of the outstanding brain trust that is the UC Berkeley community. The composers, performers, and collaborating artists in this series have each been touched by the fraught and often devastating effects of migration, exile, dislocation, and separation, on both hyper-local and international scales. In expansive presentations, they revisit the Great Migration of Black Americans, the African slave trade, the US-Cuba embargo, the cultural fallout of the Iranian Revolution, and urban gentrification in American cities. Their works profoundly and personally explore both loss and renewal, disempowerment and hope, and seek paths forward for reclaiming and celebrating the vital cultural connections that can fall victim to political and social upheaval.
In this inspired collaboration, Kronos Quartet and expatriate Iranian vocalist Mahsa Vahdat explore the tensions between the idea of home as a birthplace and the embrace of an adopted home that can offer a sense of comfort, solace, and hope.
Vahdat, a prominent performer of Persian vocal music, was born in Tehran but is barred from performing in her country of birth because of restrictions on female vocal performance; she is now based in the Bay Area, where she advocates internationally for the creative freedom of artists. For this project, Vahdat has composed melodies to texts spanning 800 years, from classical poems by Hafez and Rumi to contemporary writings by Iranian poets Forough Farrokhzad, Mohammad Ibrahim Jafari, and Atabak Elyasi. The title of Kronos and Vadhat's recording, Placeless, references a poem by Rumi from the 13th century:
I am not from the East, nor from the West
I am not from the land, nor from the sea
I am not from the world, not from beyond
My place is placelessness. My trace is tracelessness.
Cal Performances audiences already know Vân-Ánh Võ as a riveting instrumentalist through her many collaborations with Kronos Quartet—most recently performing in Jonathan Berger's gripping My Lai. Originally from Vietnam and based in Northern California for nearly 20 years, Võ is a virtuoso performer of the 16-string dan tranh (zither), as well as an adventurous ensemble leader and Emmy Award-winning composer. 
In the world premiere of her latest project, she celebrates the voices and struggles of women and immigrants by placing the music from her native culture in conversation with contemporary sounds from around the world. Võ's Songs of Strength features a vibrant collection of voices—Iranian singer/songwriter Mahsa Vahdat [see Kronos Quartet], rapper Kev Choice, and breakdancer Tunjie, plus her multicultural Blood Moon Orchestra—with texts in English, Persian, and Vietnamese. 
"Võ is a veteran when it comes to taking risks, and it pays off in her compelling music" (NPR).
The virtuoso brothers Aldo López-Gavilán and Ilmar Gavilán were unable to perform together for decades because of a geopolitical conflict that made it nearly impossible for Havana-based Aldo to interact with his New York–based sibling. Aldo had a vibrant international career as a pianist in both the classical and jazz worlds; Ilmar lived and toured as a violinist in the States, where he founded the Grammy-winning Harlem Quartet.
It was only in late 2014, with the easing of travel restrictions in the generations-long US-Cuba embargo, that the brothers could begin to imagine a musical—and family—reunion.
In the years since, Aldo and Ilmar have toured and recorded together, acting as cultural ambassadors between their two countries of residence, and rekindling the musical relationship of their childhood years through new collaborations. The process is movingly explored in the new documentary film Los Hermanos/The Brothers, which will be screened in conjunction with this special performance, and will also be nationally broadcast on PBS in fall of 2021.
Jason Moran and Alicia Hall Moran, producers
Jason Moran, piano
Alicia Hall Moran, mezzo-soprano
Tania León, conductor
Imani Winds
additional artists to be announced
The celebrated wife and husband duo of classical vocalist Alicia Hall Moran and jazz pianist and composer Jason Moran curate a special edition of their expansive concert
Two Wings
as part of this season's Illuminations programming.
The deeply personal presentation explores the Great Migration of six million Black Americans from the rural South to the industrialized cities of the Northeast, North, and West, by tracing the history of the Hall and Moran families throughout the 20th century. As the brave travelers move north and west (even passing through California, where Hall Moran was born), we hear the richly varied Black music that accompanies them on their journeys, from Harlem Renaissance-era jazz songs, gospel hymns, bebop standards, Broadway show tunes, and classical and chamber music, to the Morans' own compositions.
As Hall Moran has written, "We trace a narrative written in these songs—they tell their own story about the movement of people, about great artists who sought a community and found a home in Black music…. in all of them is the Black musical imagination that continues to shape the cultural and political landscape of this country."
Made possible, in part, by the National Endowment for the Arts and  Patron Sponsors Dalia and Lance Nagel.
West Coast Premiere
Co-created with Patricia McGregor
Sat, Mar 12, 8pm, ZH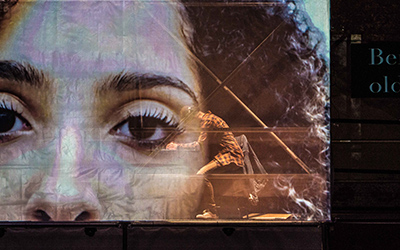 Ted Hearne, composer and conductor
Saul Williams, librettist
Patricia McGregor, director
Sanford Biggers and Tim Brown, scenic designers
"Gentrification is a generational conversation that has gone by many names. We should not discuss what brings you back to the city without acknowledging why you left." 
—Saul Williams, from the libretto of Place
Watching his Brooklyn neighborhood transform before his eyes, composer Ted Hearne embarked on an intensely self-reflective writing and composing project that became the fiery yet thoughtful oratorio Place. As a white millennial man, Hearne grapples with his complicity in oppressive structures and the limitations of guilt, and his work puts that unease front and center.
But Place is at its heart a dialogue. Hearne's own autobiographical reflections are placed in conversation with—and overtly challenged by—his collaborator Saul Williams' trenchant text in the second half, which addresses displacement through the lens of settler colonialism, police violence, and Afrofuturism.
Making its Bay Area premiere, this fully staged, evening-length work features six vocalists and an 18-member ensemble that blends R&B and electronic music with acoustic orchestral sonorities composed in Hearne's distinctive style.
Bay Area Premiere
A Cal Performances Co-commission
Sat, Apr 23, 8pm, ZH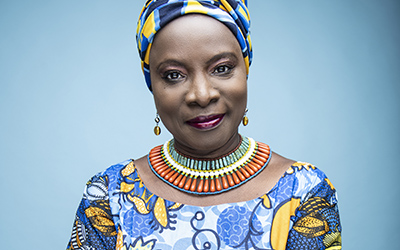 Starring Angélique Kidjo
Conceived by Angélique Kidjo, Jean Hebrail, and Naïma Hebrail Kidjo
Book and Lyrics by Naïma Hebrail Kidjo
Music by Angélique Kidjo and Jean Hebrail
Developed with and Directed by Cheryl Lynn Bruce
Kerry James Marshall, production designer
In Angélique Kidjo's new music-theater work Yemandja, mortals and gods, kings and villains navigate the perils and pitfalls of the slave trade in 19th-century Dahomey, the West African kingdom that once occupied the land that is now Kidjo's birthplace of Benin. Kidjo, Cal Performances' 2021/22 season artist-in-residence, left Benin for Paris in her 20s, refusing to use her music as propaganda to prop up that country's dictatorship.
Anchored by songs performed by Kidjo with a full cast of musicians, singers, dancers, and actors, Yemandja is a hybrid of family drama and historical thriller, infused with themes of love, betrayal, honor, and destiny, set against the backdrop of the horrors and injustices of slavery.
There is perhaps no one better suited to explore these complex and resonant issues than Kidjo, a genre- and border-crossing artist and activist fluent across multiple languages and cultures. She is a recipient of both the prestigious 2015 Crystal Award given by the World Economic Forum and the 2016 Amnesty International Ambassador of Conscience Award.
Additional Illuminations Events:
9/11: A Turning Point
LIVESTREAMED EVENT
An Illuminations "Place and Displacement" Talk
Wednesday, September 29, 2021, 4–5:30pm PDT
Free and open to the public.
Will be available to view on demand for three months, through December 29, 2021.
Join us for our first Illuminations: "Place and Displacement" event of the season, a special panel discussion with the filmmakers and key participants of Netflix's new hit documentary Turning Point: 9/11 and the War on Terror, chronicling why 9/11 happened and the day's consequences. Moderated by UC Berkeley's own Lowell Bergman, emeritus professor of journalism and an executive producer of the Netflix series, the panel will also feature special guest commentator Janet Napolitano, the former Secretary of Homeland Security and president of the University of California.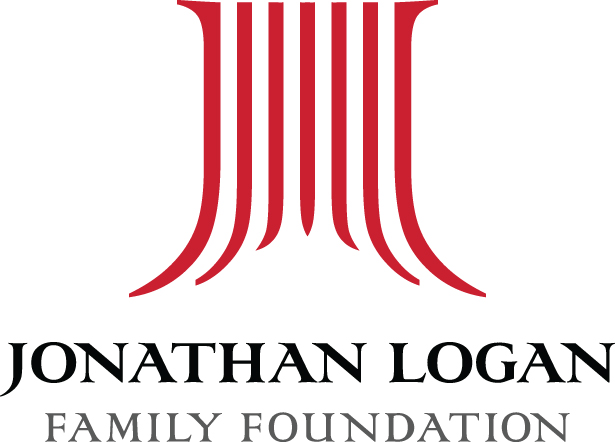 Lead support for Illuminations is provided by the Jonathan Logan Family Foundation—empowering world-changing work.