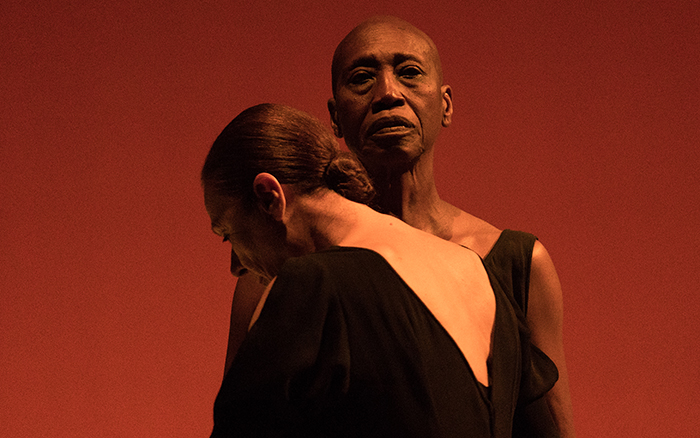 Dance
common ground[s]
by Germaine Acogny & Malou Airaudo
The Rite of Spring
by Pina Bausch
A Pina Bausch Foundation, École des Sables, & Sadler's Wells production
Bay Area Premiere
In this double-bill production, Pina Bausch's iconic The Rite of Spring, a "ferocious roar of a piece" (The Guardian), is performed by an ensemble of more than 30 dancers from 14 African countries and assembled through a collaboration with the Pina Bausch Foundation, École des Sables, and Sadler's Wells. Stravinsky's searing, ominous score takes on new meaning through visceral choreography as a "chosen one" is sacrificed.
The occasion is momentous—it is only in recent years that Bausch's pioneering work has been taught to new dancers outside of her company—and a thrilling opportunity to see her vision created anew on the Zellerbach Hall stage.
The companion piece common ground[s] is a new duet co-created and danced by two septuagenarians—Germaine Acogny, known as the "mother of African contemporary dance," and Malou Airaudo, a longtime dancer with the Tanztheater Wuppertal Pina Bausch.
Join us for a post-performance moderated discussion on Fri, Feb 16, and post-performance community conversations on Sat & Sun, Feb 17 & 18.
This event is part of Cal Performances' Illuminations: "Individual & Community" programming for the 2023–24 season.
Co-produced with Théâtre de la Ville, Paris; Les Théâtres de la Ville de Luxembourg; Holland Festival, Amsterdam; Festspielhaus, St. Pölten; Ludwigsburg Festival; Teatros del Canal de la Comunidad de Madrid; Adelaide Festival; and Spoleto Festival dei 2Mondi
The project is funded by the German Federal Cultural Foundation, the Ministry of Culture and Science of the German State of North Rhine-Westphalia, and the International Co-production Fund of the Goethe-Institut, and kindly supported by the Tanztheater Wuppertal Pina Bausch. 
Patron Sponsor: Helen Berggruen for Five Arts Foundation (2/16); Rockridge Market Hall (2/17)
Feb 16–18, 2024
Add to Calendar
02/16/2024 08:00 pm
02/16/2024 09:30 pm
America/Los_Angeles
common ground[s]; The Rite of Spring
https://calperformances.org/events/2023-24/dance/common-grounds-the-rite-of-spring/
Zellerbach Hall
Feb 16, 2024, 8pm
Feb 17, 2024, 8pm
Feb 18, 2024, 3pm
Tickets start at $38
Beyond the Stage
WATCH: Jeremy Geffen, john a. powell, and
Illuminations
artists discuss how concepts of individual and community impact society, their work, and their creative practice in this
2023–24 Season Feature
.
WATCH: Executive and Artistic Director Jeremy Geffen and renowned dance company directors guide us through an exhilarating season of dance in this
2023–24 Season Feature
.
READ: A fascinating deep dive into some of the most anticipated new works on the season in this 2023–24 Season Feature.
READ:
Summer Cinema
: Get Ready for Our 23–24 Season with These Exciting Films! Choose from 30 movies and documentaries to enrich your experience of our upcoming performances.
Video